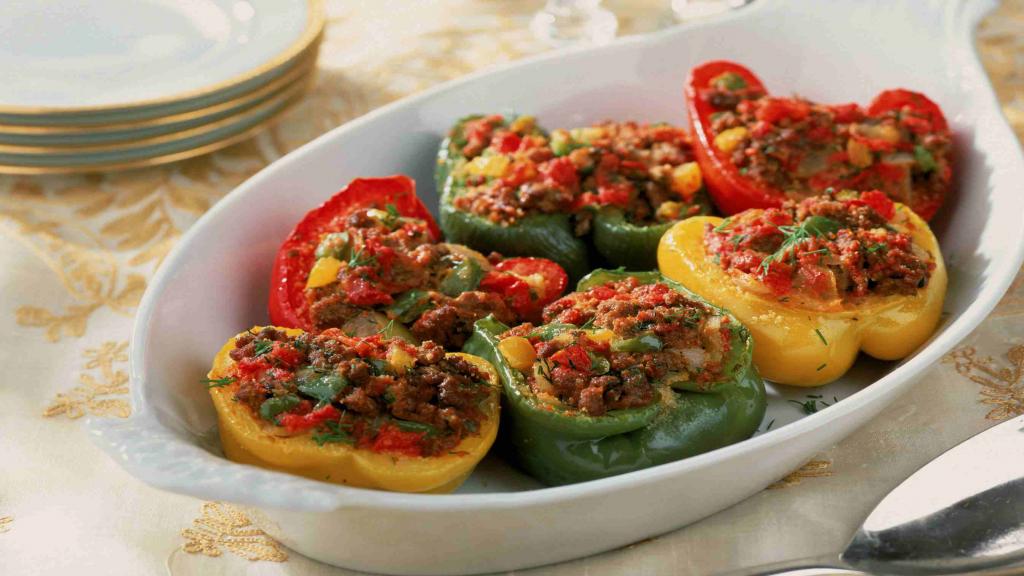 Ingredients:
1 cup ground pork
1 tablespoon minced onion
1 teaspoon minced coriander
1/2 teaspoon pepper
1 teaspoon garlic salt
1 egg 6 peppers
2 slightly beaten eggs
2 tablespoons vegetable oil coriander leaves to garnish.

method: In a small mixing bowl, combine ground pork, onion, coriander, pepper, garlic salt, and egg. Mix well. Set aside. Remove the seeds from the pepper. Wash and drain. Stuff with the pork mixture, lay in to steamer. Steam for 8-10 minutes. Rub the wok with some oil and heat over medium low heat. Dip your fingers into the beaten egg. Sprinkle the egg back and forth across the wok to make the egg nest which is about 8 inches in diameter. Make 3 nests. Cut each in half and wrap the steamed peppers. Arrange on a serving plate. Garnish with coriander leaves. Fried egg plant Ingredients: 1 large egg plant 2 eggs 1 teaspoon light cream ? teaspoon salt 1 cup vegetable oil some coriander and red chili to garnish method: Beat the egg lightly with fork. Add salt and light cream, stirring a few times. Slice the egg plant ? inch thick. Coat each slice in the egg mixture. Deep fry in hot oil until golden brown. Place on a serving plate. Garnish with coriander and red chili.
Phuket is divided into 3 districts ( Amphoe ), which are further subdivided into 17 subdistricts ( tambon ) and 103 villages ( muban ).