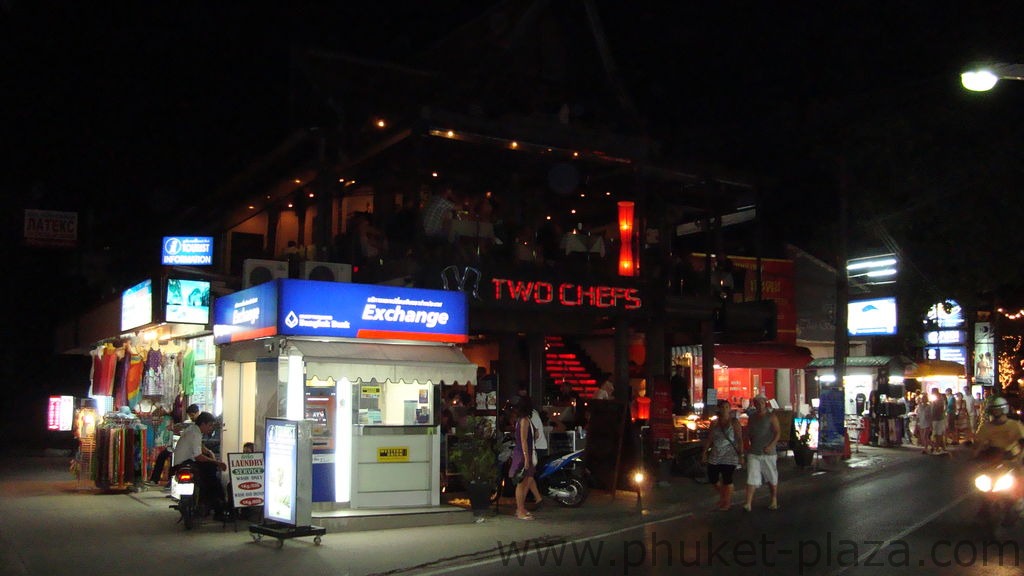 Two Chefs Bar and Grill in Kata beach, are two restaurants, one in the north and one in the south, either one is a safe beat for a great meal. They cater to families with children as well as romantic couples. Serves Breakfast, Lunch and Dinner. Price and quality of the food is well balanced, it's a great place to eat along the road. They have a buffet night every Monday, make sure you visit during that time, all you can eat for adults THB 495 and children (3-12 years) THB 250. Live music around 8 pm every night. Most people who visit will come back for more...
In the beginning of December 2006, Thailand launched the first of 22 tsunami-detection buoys to be positioned around the Indian Ocean as part of a regional warning system against giant waves caused by earthquakes under the sea. The satellite-linked deep-sea buoy will float 1,000km (620mi) offshore, roughly midway between Thailand and Sri Lanka.
The menu is extensive, and there is plenty to choose from, starters and soups range from THB 95-295, Salads from THB 195-325, Pasta is priced 175-395.
International food such as Burgers, Schnitzel, Swedish Meatballs, Beef Stroganoff is priced THB 345-375. From the Grill they serve Chicken & Pork THB 295-445, Wooden Plank steak is THB 475, Grilled Duck Breast THB 495, and Grilled Minute Steak THB 495.
Steaks are THB 545-795 (Pepper Steak, Chateau Briand, File Mignon among other). Seafood prices range from THB 295-575 (Salmon, Red Snapper and so on).
Two Chefs also serve Thai food, starting from THB 195 for Tom Yam Soup, THB 245 for Stir fried pork with cashew nuts, up to THB 395 for Lemon grass prawns.
Tex Mexican from THB 195-395, and the desserts from THB 165-225.
The Lunch Menu is as usual a bit different from a dining menu, for lunch you can have a good selection of sandwiches priced from THB 175-285. Hamburgers from THB 295-395, they also serve starters and pasta for lunch.
Two Chefs Bar and Grill got a special Junior Menu for Kids, with food like spaghetti, hamburger, Swedish meatballs, grilled pork file, sausage, fish fingers, deep friend chicken, pancakes. The kids menu is priced from THB 95-295. Soft Drinks are THB 60, fruit juice/shake from THB 80-135. The Junior Menu are only for children 0 to 12 years old.
They also got a selection of birthday cakes, in small / medium / large sizes, price is THB 495-1295. They even do wedding cakes, or other special cakes.
On our visit we started with TZATZIKI with crispy garlic bread (145 THB), TOM YAM SOUP (165 THB), and for main dish the CHATEAU BRIAND (745 THB) and a GRILLED SALMON FILLET (545 THB), for dessert we have APPLE PIE A'LA TWO CHEFS with homemade vanilla sauce (185 THB), TWO CHEFS GALA vanilla ice cream with almond cookies and chocolate sauce (175 THB). It was all in all an amazing meal.
Ranking : Food : 8/10, Service : 8/10, Value : 8/10, Atmosphere: 8/10 Customer Rating : 8/10
Two Chefs Bar & Grill can be found in Kata beach north and south, it's hard to miss at either location, Opening hours is 12:00 - 24:00.