Chalong Bay is on the east coast of Phuket, and is not very suitable for swimming due to it's muddy shoreline, in resent years it's been developing to a marina centre, as it is ideal for yatch mooring. It is busiest in the mornings and afternoons, as that is the time diving and day trip groups come and leave for there adventure at sea. The Ao Chalong Yatch Club has it's base here, where sailors can meet up and have a drink or two. The Chalong Bay Pier, that has now been replaced with a 720 meter long jetty is one of the attractions, even if you are not going on a trip on one of the many boats leaving the bay, you may just go here to have a stroll, in the late afternoon, when the breeze is just right, and have a nice evening dinner at one of the many good restaurants in the area.
After the Tsunami, By February 2005 many damaged and most undamaged resorts were back in business, and throughout 2005 life slowly returned to normal for the people of Phuket. Following strenuous recovery programs, there is no remaining tsunami damage other than at the most remote beaches.
Chalong Bay is also famous for the grand Wat Chalong temple, and the sight of the Big Buddha statue. Corel Island is also just a few minutes away from the shore with speed boat, and is a good destination for a day trip when visiting this part of the island, it's good for water activities like diving and snorkeling, as the marine life here is quite entertaining. The island has two white sandy beaches and is small enough to walk around and explore when you are tiered of snorkeling in the sea. The beaches are called Banana & Long Beach. Banana being the more snorkel friendly.
In Chalong Bay there is also plenty of bars, restaurants & places to dine. Those venues cover all sorts of food from all over the world, not just the local thai food, even if that is the reason most of us come here. You should not miss visiting on of the more famous restaurants here like Kan Eang@Pier, The Lighthouse or Captain Hook.
Chalong Bay by night is mostly dining and having a few drinks in a quite place. If your into party you might check out places like Coconut Bar or maybe even The Green Man on the way to Kata Beach, before heading deeper into the night.
There is also a few places to do some of your holiday shopping, including the HomePro village with Villa Market and Tesco Lotus at Park Rawai. Here you might even be able to pick up a few souvenir's to bring back home... The local fresh market might also be worth a visit for a more interesting open air way to see how locals usually shops.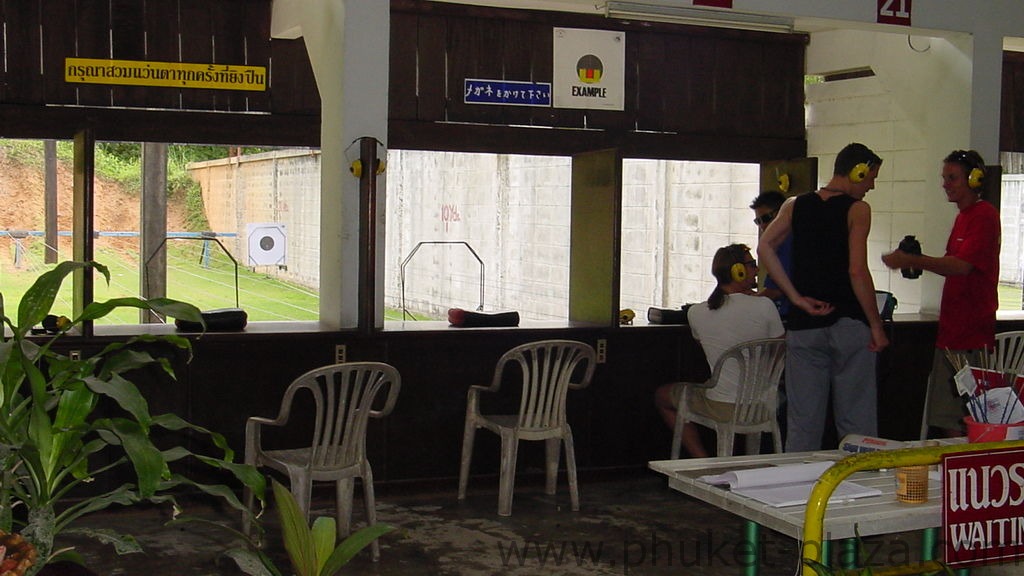 if you are looking for something to do during one of the days you don't spend on the beach, you might find quite a few things to do around here. There is probably something that will fit your lifestyle, if activities such as elephant trekking, paintball, wall climbing, go-karting or shooting is on your list. You should check out places like Phuket Shooting Range that offers activities like ATV Ride, Airsoft BB Guns, Clay Pigeon Shooting, Paintball Asia, Archery Range, Racing Karts. Elephant trekking is easily found along the major roads.