Welcome to Phuket in December!
Welcome to Phuket in the sunny month of December. At this time of year the island is getting more and more crowded with pelople that enjoy the high season of phuket, prices of accommedation is a bit higher than in the low season, but if you are a first time visitor to phuket, this is the season to come. As phuket has grown alot for the past few years, where as now you have 3 major shopping centers in the middle of the island, just outside phuket town, that offers great shopping. Central Department Store and shopping mall is well worth a visit, apart for all you need to shop, they also have a range of great restaurants (MK, Sizzler, Pizza Company, Pizza Hut, KFC just to mention a few), and a world class cinema (SFX Coloseum) that is showing all the latest movies, in English or Thai. You also have Big C Superstore & Shopping Mall and Lotus Superstore & Shopping Mall, all three of these is well worth a visit the first days of your stay, if you lack any beachware or stuff, you'll be able to find it all here and at great prices far better than what you are used to pay back home. They are all located near eachother so it is very easy to move from one to the other.
So Come here and enjoy the blue sky, calm ocean, sandy beaches, wonderfull food and great accommedation, at unbelivable good prices.
Phuket in the low season is also an attraction as it's less crovded, and the prices are far lower, you can now find luxury accommedation for a bargin compared with the overpriced high season. Even though the sea can be a bit rough, and the sky might not be clowd free, you can find loads of things to do, and don't worry you will get a great tan even if it is a bit of clowdy.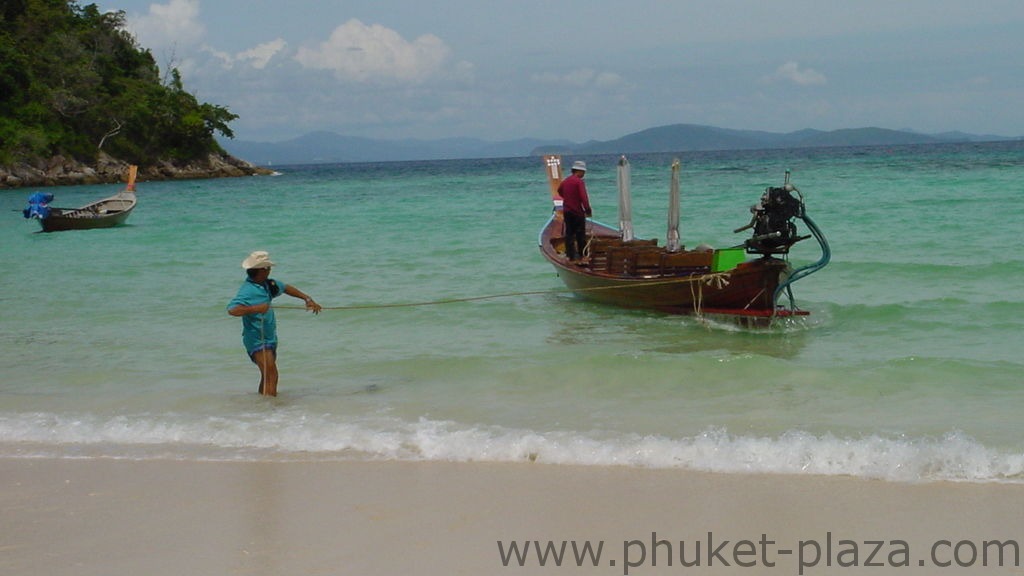 For the adventurous, there are live-aboard diving trips, mountain jungle treks, sea cave explorations and rock climbing. (See our various sections highlighting the best of these activities) These are all available on and within a small travelling radius of the island. For the more sedate visitor there are beautiful beaches, wonderful views and shop-till-you-drop facilities for all. And for the Party Animal in you, you've got to try a night or three out in Patong, Kata/Karon or the increasingly popular Phuket Town, with its down-home eateries and chic cafes.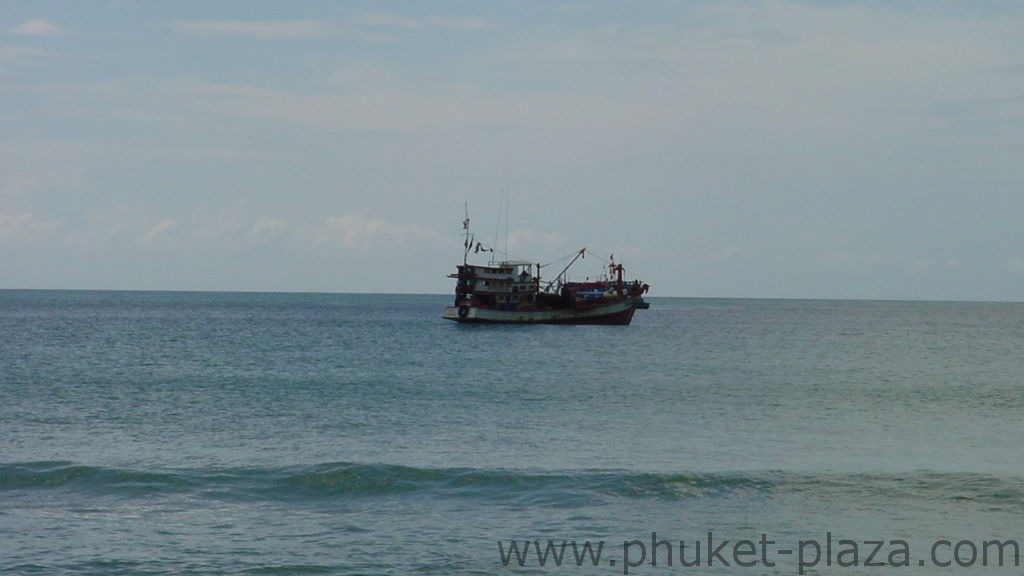 The annual Phuket King's Cup Regatta (the biggest in Asia) is held here from the 1st to the 8th, bringing an influx of colourful sails and yachtes from around the world. This ecent is part of the celebrations of the king's birthday on the 5th - a national holiday.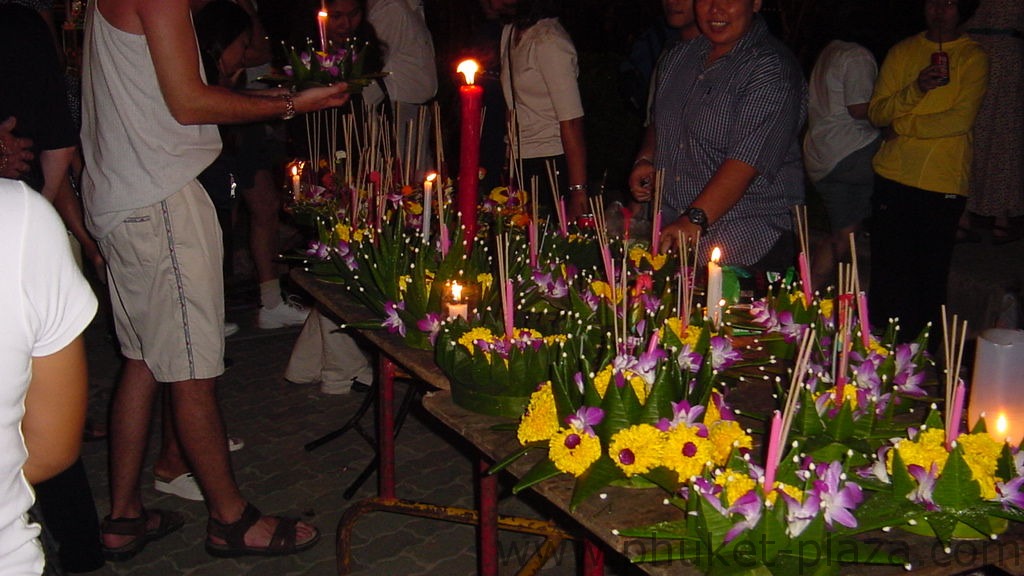 If you are lucky enough to be here towards the end of the month, you'll notice that Christmas on Phuket is an extraordinary experience. Thais have a special word for fun: 'Sanuk.' It's a part of their social creed and is woven into their everyday existence. Anything that is sanuk is warmly embraced, even in the work place, so don't be suprised when a Buddhist Thai joins in the celebrations by wishing you a 'Melly Chlistemas' as Chstristmas, to most Thais, means an additional party to celebrate.
Phuket Beaches : Nai Harn Beach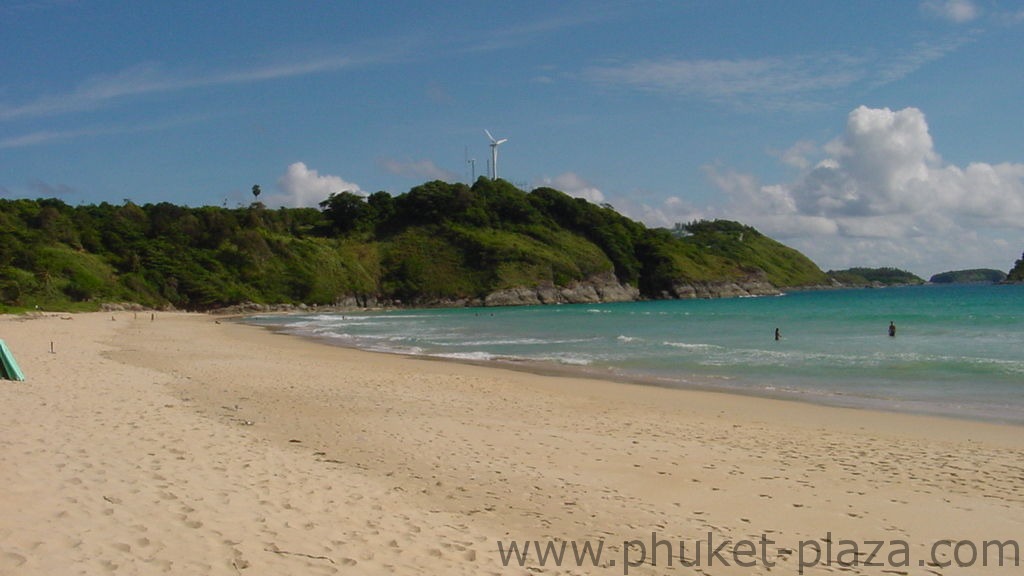 As the most enjoyable of the southern beaches, Nai harn is located just abowe Laem Promthep, the famous sunset spot, and just as laem promthep, you can enjoy the sunset here, and why not do so while dining at one of the beach restaurants, that serve excelent, and not to expensive food. After a day on the beach, it's just the kind of relaxation that phuket has to offer. Not to many people find the way down to this beach, during low season. It is probaly one of phuket's cleaner and more beautifull beaches. Not to miss on your holliday here... The waters are crystal clear compared to some of the other beaches, but not as crystal clear as the small islands surrounding phuket.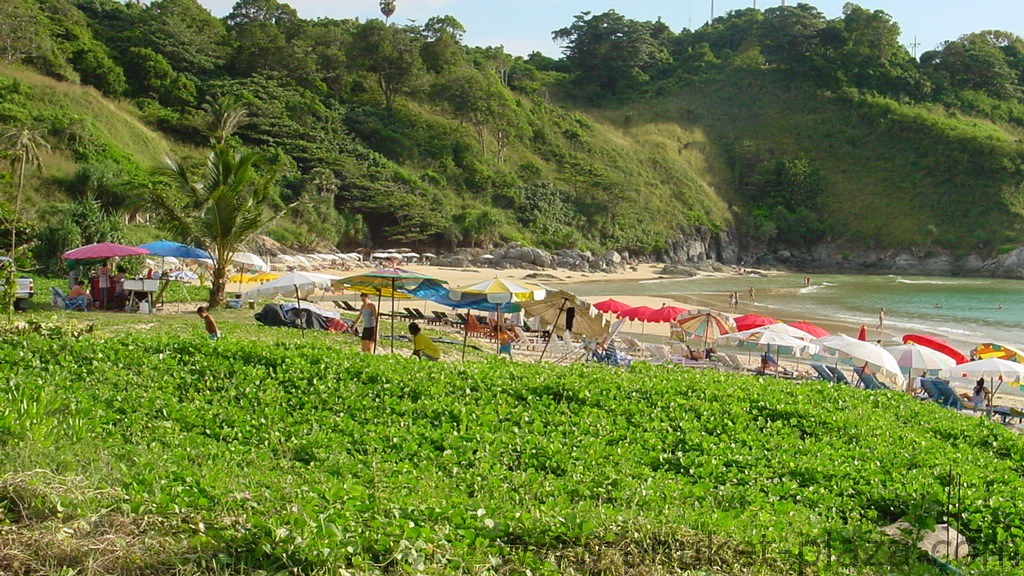 Even during low season when it's more windy than the rest of the year, you might be able to do some 'surfing' on the waves here. But even so it's quite safe to take a swim here all year around.
This is a five star beach, and if you drive the west coast down here, you will enjoy alot of sights on the way. One hotel is located right on the beach, but it's quite far away, so it's not disturbing the peace.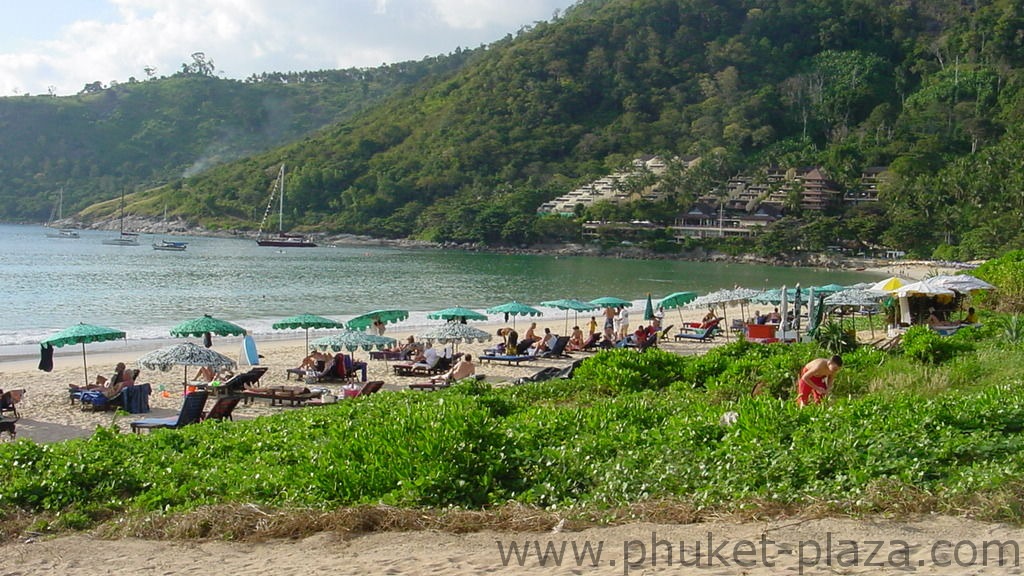 Phuket Beaches : Nai Thon Beach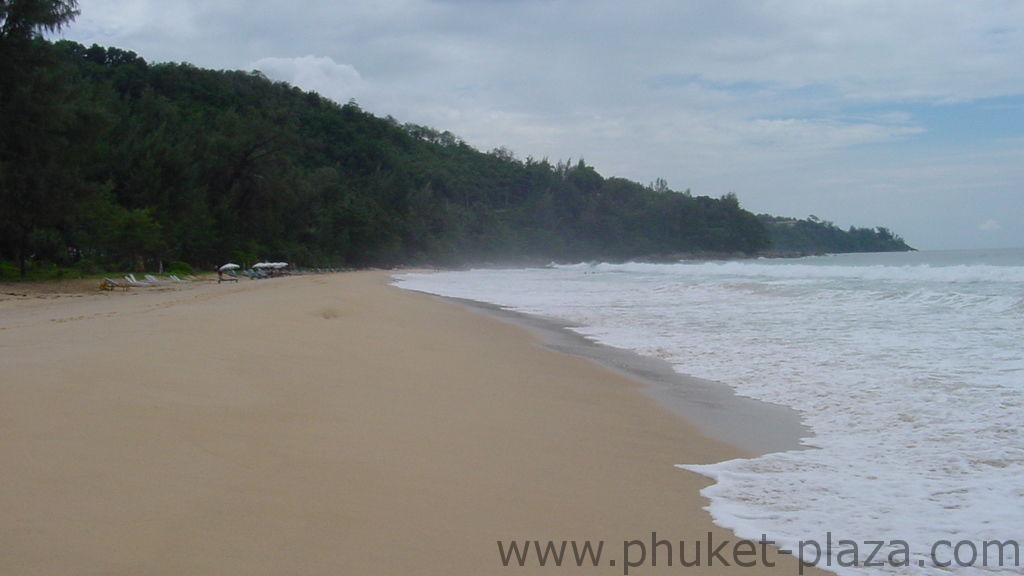 Just abowe Bang Tao and below Nai Yang, you will find this rather quiet and desolated beach. Very beautiful as it streatches from north to south, during low tide it's excellent for swimming and snorkeling, here you can see some of the tropical fishes that lives around phuket, just a few hundred meters outside from the beach, don't worry, it's worth the swim, just look at the darker water areas of the beach, and head there.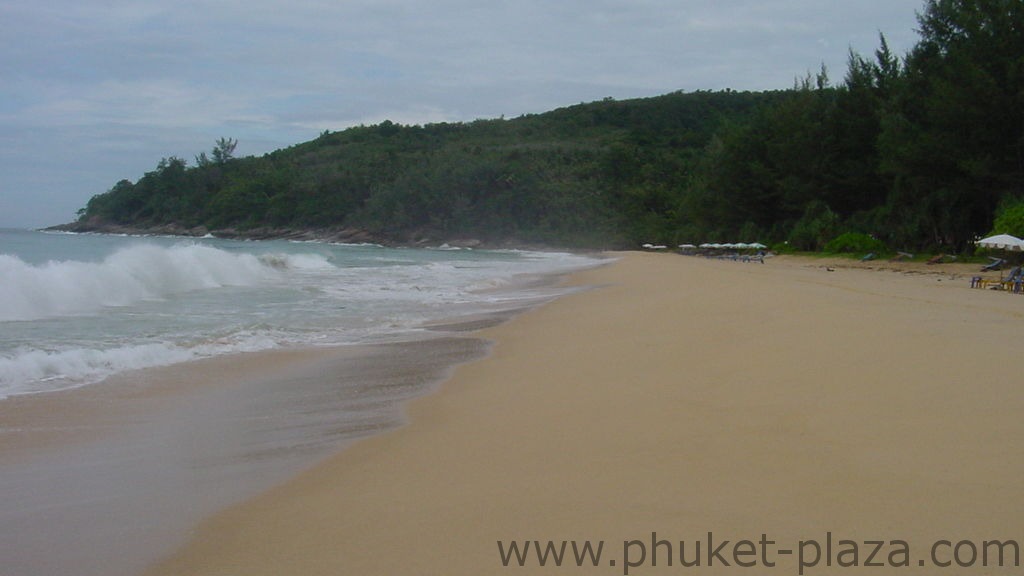 During low season it's usually quite windy here and the waves can be very huge. Since this beach is not even crowded at high season, and there are no major resorts located here, it's just the ideal place for a swim and you might even be able to go for a nude swim.

There are some restaurants here that serve excellent food. The extremely clear waters just makes the experice even more awesome. Don't forget a visit to this beach, and if you are able to, maybe stay for a few days at one of the resorts here.
Phuket Beaches : Surin Beach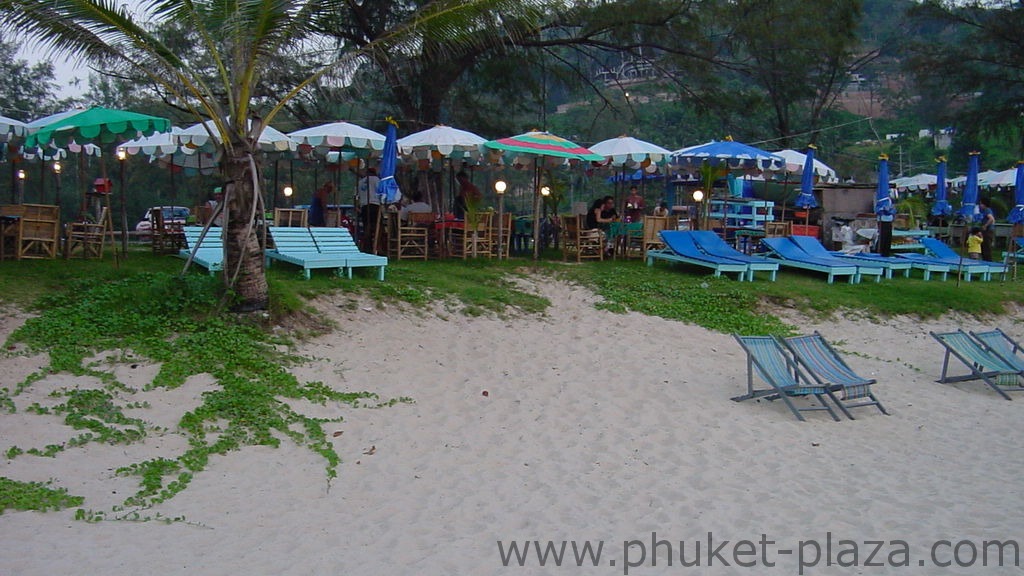 Located between Bang Tao and Kamala on the westcoast of Phuket is this rater small but quite beautifull beach located. Beautifull that is when it's NOT high-season and packed with sun-bathing chairs and farangs, during low season you don't have to much of either here, the past weeks it's been just to much of that, and if one wiches for a quiet beach don't bother to visit this one during high season. Even if they do have great food here, high-class and an meal for 2 end's up around 500 Bath, including beer and 2 dishes from the menu. During low tide, the beach is quite children friendly, and you can walk forever before your nose is under water and during high tide, you can just walk a few meters.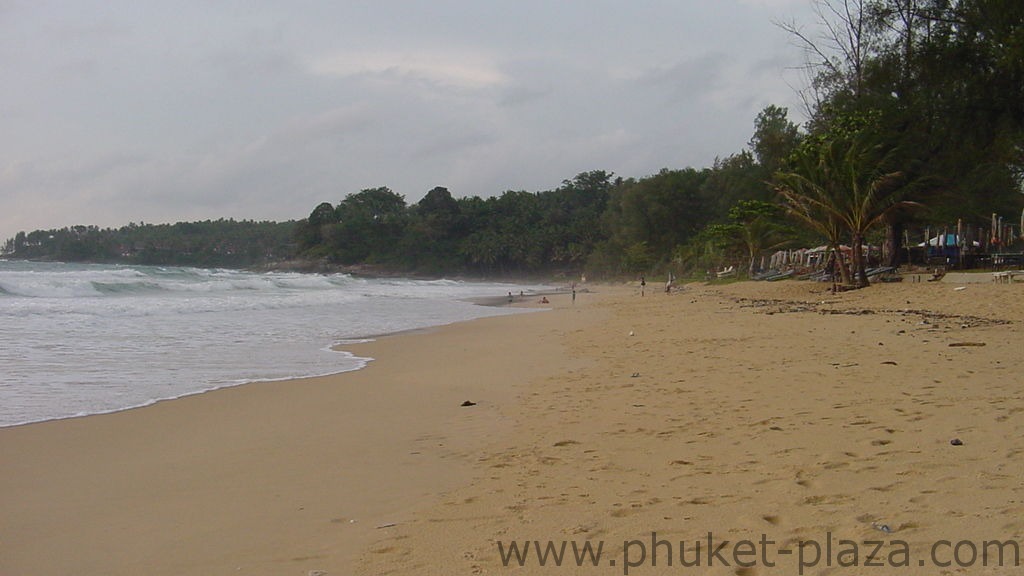 There is a lot of locals here who also come for a swim, but keep away from the expensive chairs, and usually takes their swim in the late afternoon.
Recomended during low season, but be carefull when you swim, several people has drowned here, during the monsoone season.
Not Recomended in high season, if you are looking for a quiet beach to relax and have a wonderfull time.
Phuket Beaches : Nai Yang Beach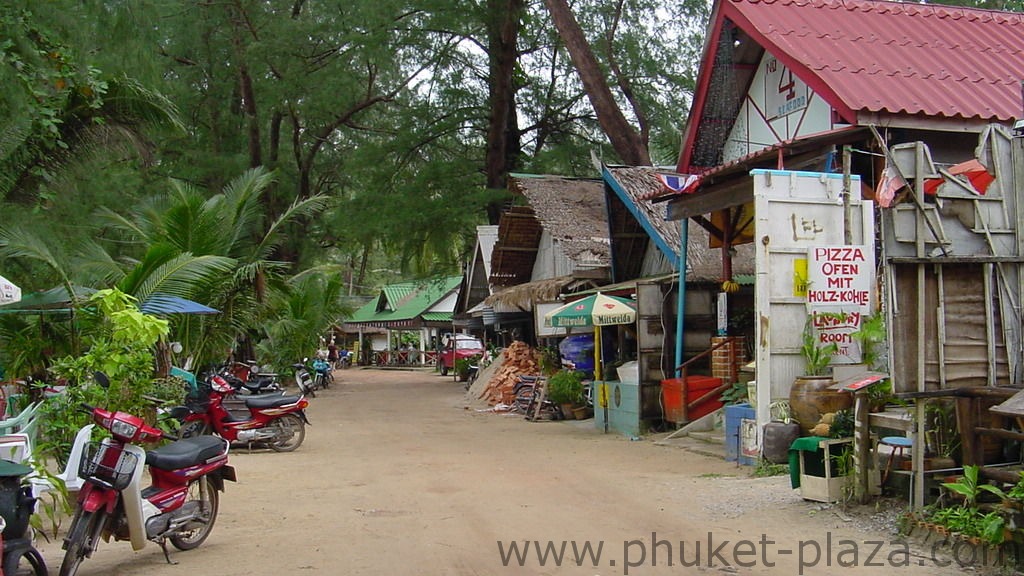 Just next to the airport and below Mai Khao you will find Nai Yang Beach, one of the more interesting and quiet beaches on the island, here you can dine in thai style, rather inexpensive and very good barberque seafood, like crab, clams, fish and ofcourse chicken, with sticky rise or fried rise, and have a big bottle or a few of the local beer (Singa or Chang) at a attractive price. Next to the beach is also the Nai Yang National Park Located, which makes it even more attractive, since there can be no development of hotels at this end of the beach, futher south you have a small 'comercial' area with some hotels and shops, still quiet and not to noisy if compared with some of the other tourist filledbeaches on the island.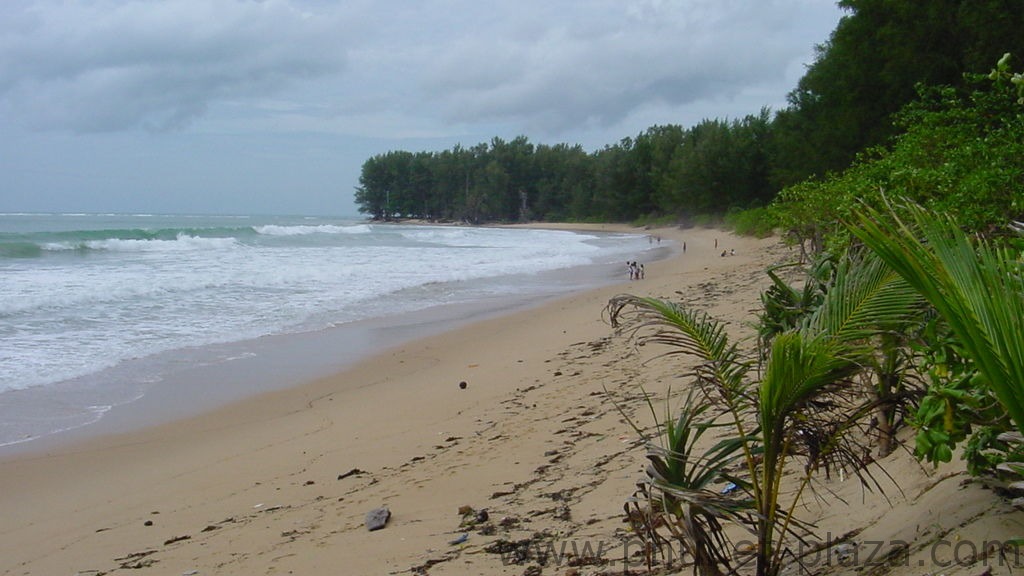 The beach it self is quite a long stretch and merges with Mai Khao in the north, and run almost all the way down to Bang Tao, the home of the famous Laguna Hotel Complex.
Especially in low season some parts of this beach is good for taking a swim, as the waves break a long way from the shore, alot of local thais and expats find this beach rather attractive, due to it's quiet nature, and lack of tourists.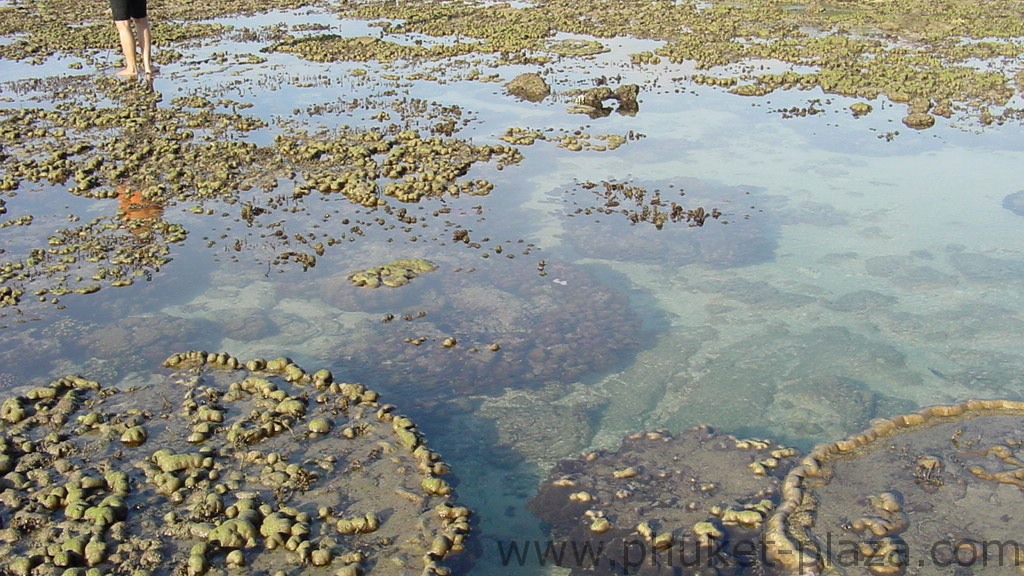 Phuket Beaches : Patong & Emerald Bay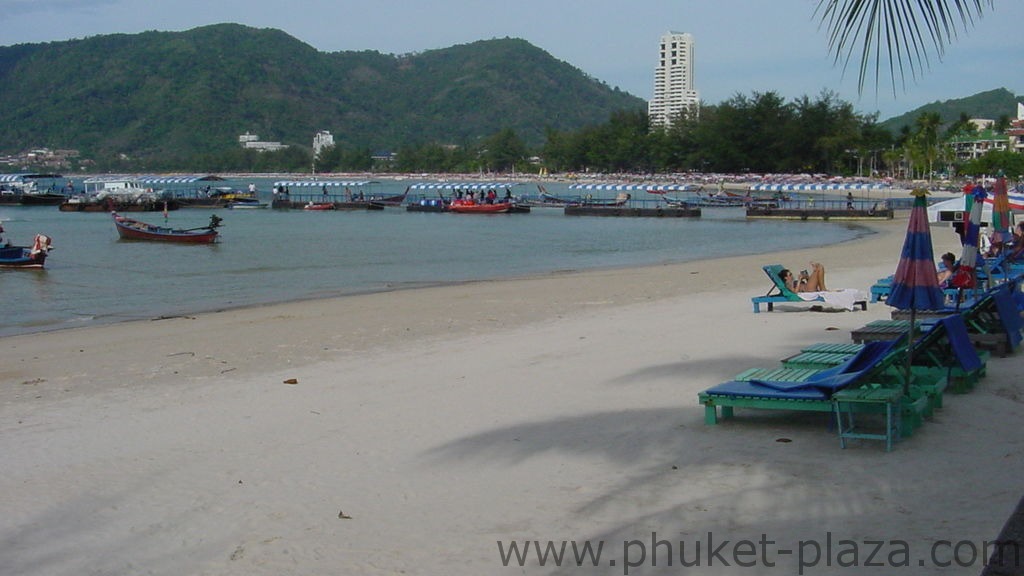 One of the most attractive and tourist filled spots on the island must be Patong Beach, not attractive to those seeking a rather quiet holiday, but for those who which to have fun and sun, the beach is crowded with people during the day, and during the night this place turn into one big bowling pot of entertainment, filled with anything you can imagine and more. One should not miss to visit here, during the evening and night hours.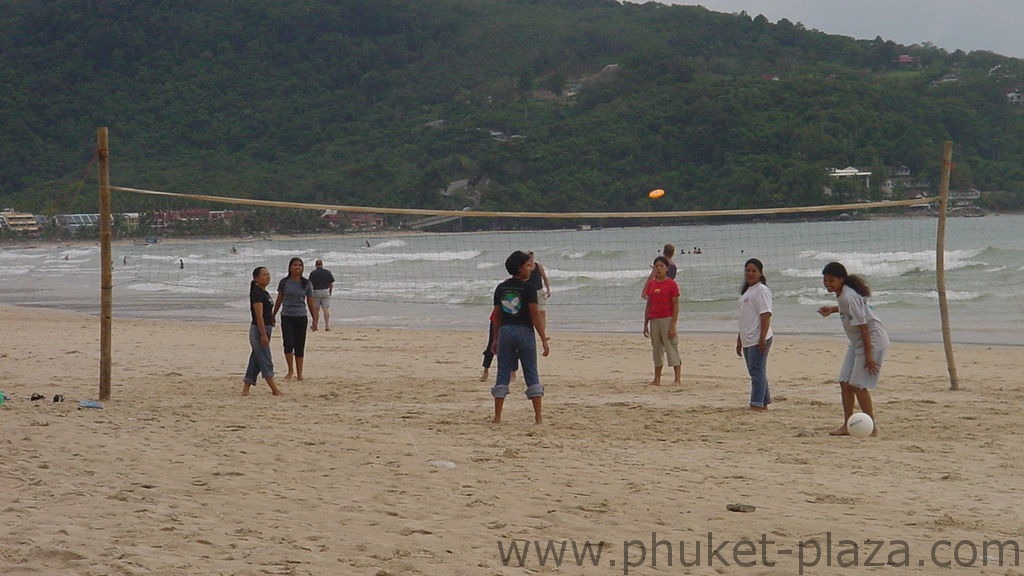 The beach itself is quiet a nice place to have a swim, if it wasn't for all the people and noise this would be a lovely place.
But if you don't want to go far from patong to find a more quiet and relaxed beach, you can head down to Emerald Bay, to get youself there you need to drive south along the beach and up the mountain, keep on driving for abouth a kilometer or two, and you will end upp at the beach, even know as Crystal Bay.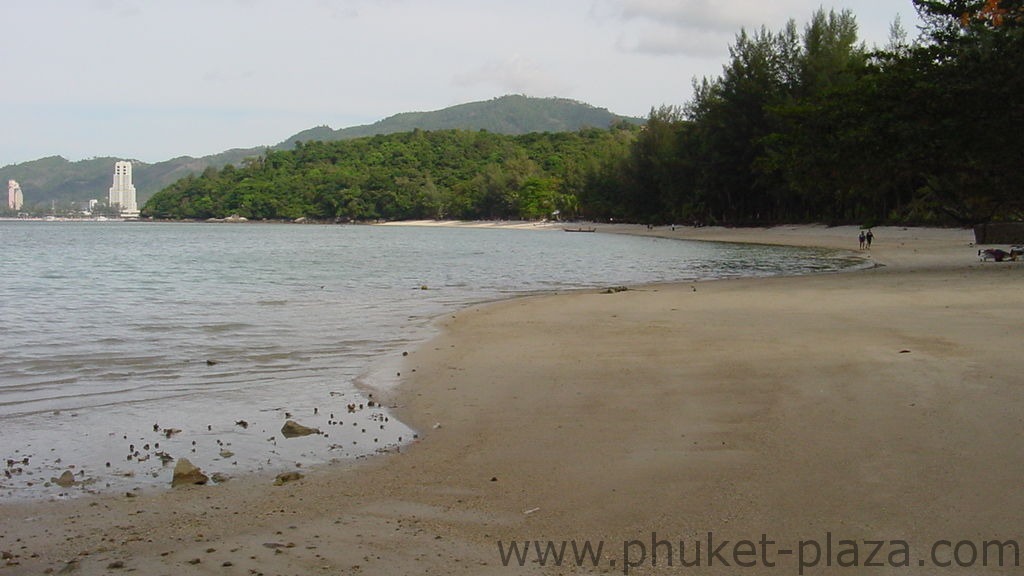 If you continue up thenext mountain there is quite a nasty off-road drive to another smaller lovely beach. Anyway, the beach itself is not as good for a long swim, could be somewhat interesting for snorkeling, but it makes a great place for a picknik, so bring soem food and beer along and you will have a great time here, as the tree line also offer some shade when the sun is rather hot, just make sure you come here duing the high tide. Low tide is ok to, but it's less attractive to swim here then.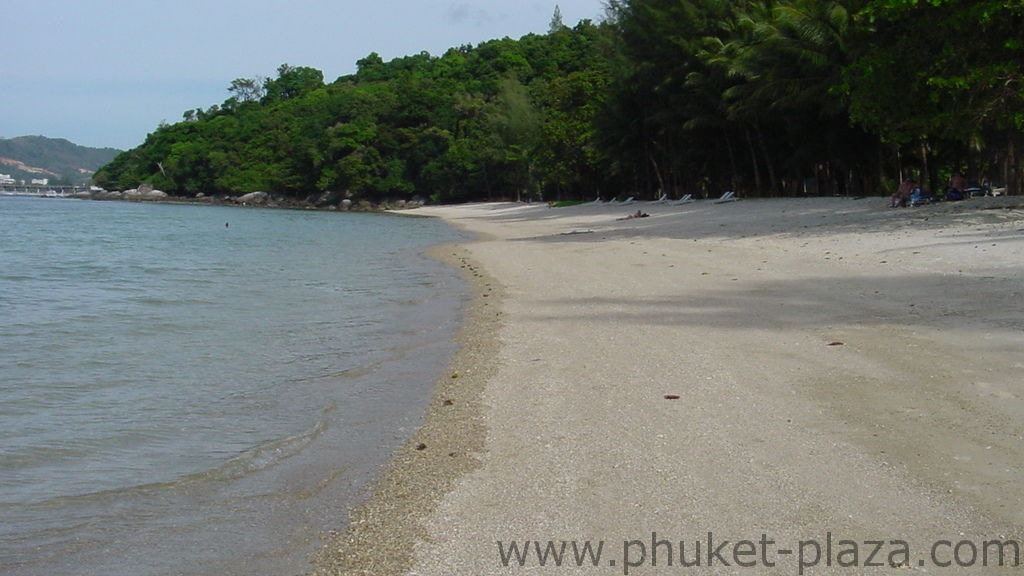 Touring in the Andaman Region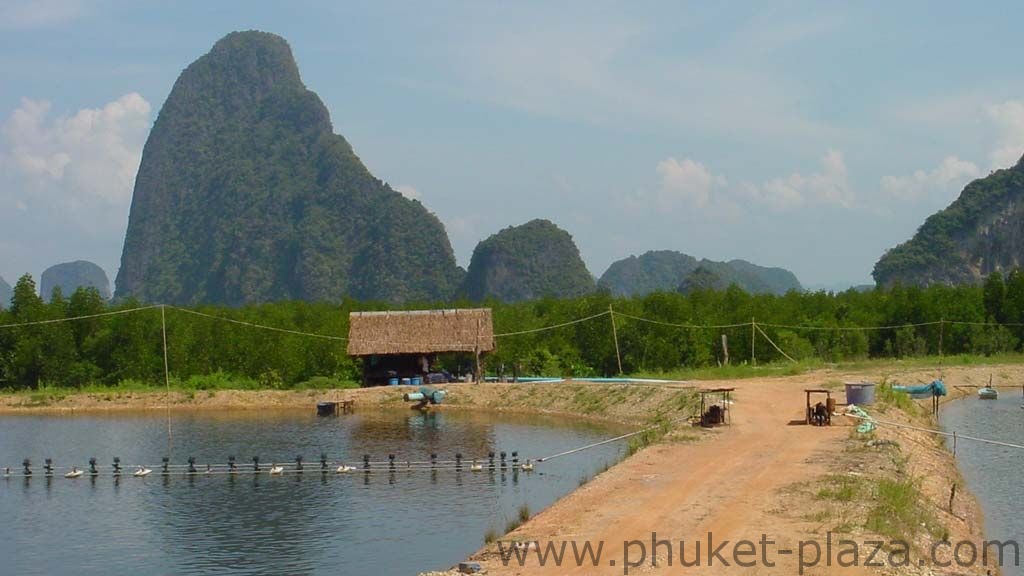 It's undeniable that certain global tourist destinations are dangerous, once off the beaten track. Tales of robbery and even worse get around, discouraging visitors from touring the region. Happily, this is not true of Phuket and the surrounding Andaman region. In fact, for many, a day trip to Krabi or Phang Nga provinces a welcome break from the frenetic pace of Patong.
This region is deceptively easy to get around in, whether by bus, air-conditioned coach, motorcycle or, safest of all, by car. The main roads through Phuket's neighbouring provinces have recently been laid and the result is a pleasurable, smooth driving experience.
Here are some suggestions and destinations: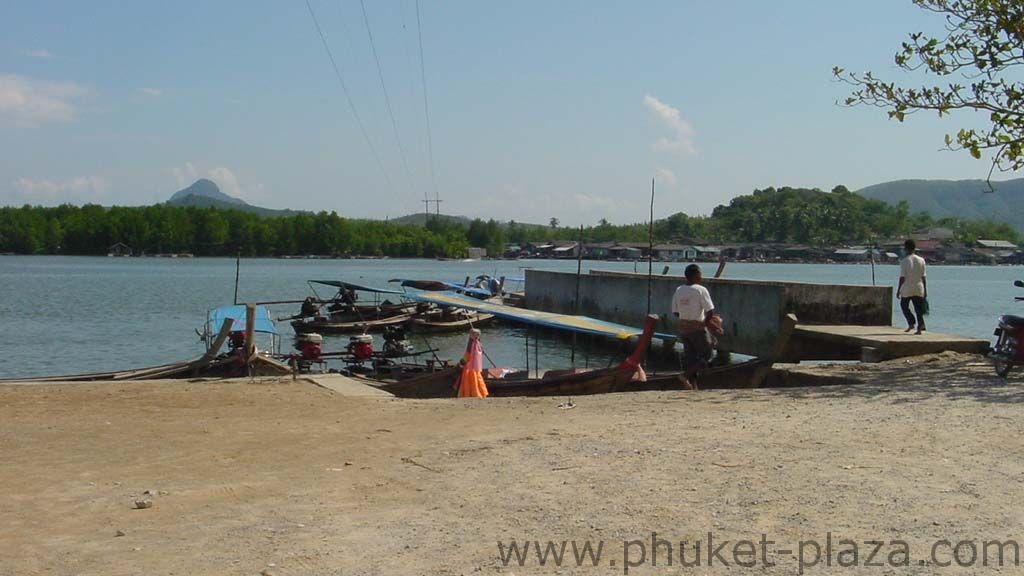 Three hours drive north of the island lies Khao Sok National Park: a trekker's dream. There are cheap guesthouses, awesome sights, fauna and flora. It's best to rent a car to get there, although there is a bus service from Phuket bus station, with a connecting bus at Takuapa. You won't be able to return to Phuket on the same day if you use this option.
On this same coast, before the turn off to Khao Sok, you'll come to a series of seaside resorts and accommodations at Khao Lak National Park. Snorkeling, scuba diving, waterfalls (in the 'green' season) are all attractions; as are the elephant trails and fishing opportunities.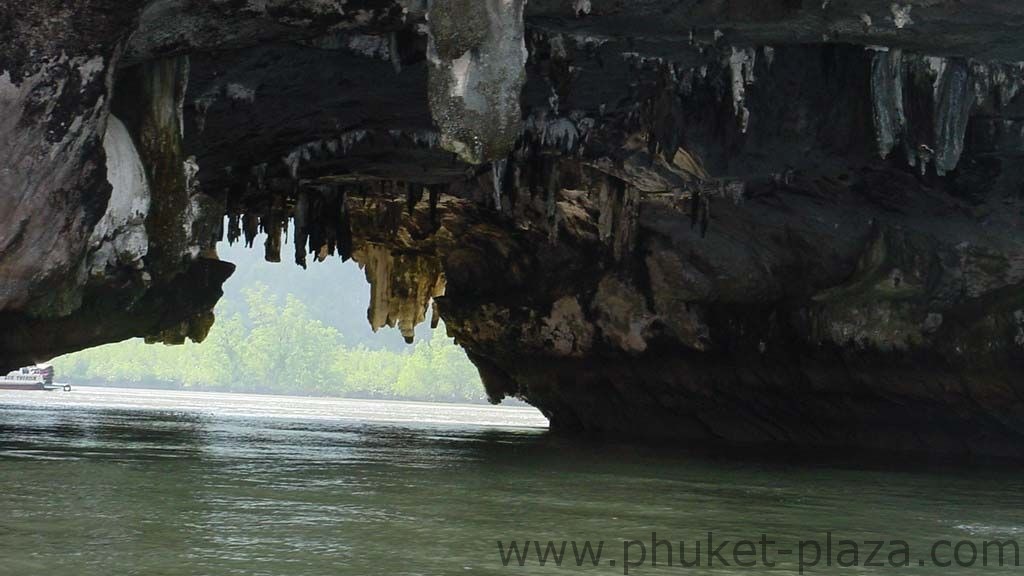 Alternatively, if you head east when you leave Phuket, once over the Sarasing bridge and motor down to Phang Nga Town, you'll soon begin to notice the magnificent limestone mountains that characterize this area. Photogenic and atmospheric, this part of Thailand features many caves and possible off-road exploration, although you'll need a 4x4 to get around safely if you leave normal roads. Farther south from Phang Nga lies Krabi Town. Krabi's simply charming and is a spring off point for the many worldwide rock climbers that congregate on Railey Beach. Accessible only from the sea.
Phuket Town Nightlife
Some of the Hot spots in the city would be places like Timber and Rock, Formerly the Timber Hut, this place is the talk of the town with regard to rock and roll. With lots of seating space and not much of a dance floor, it's a great venue to catrch its famed house band. Kurt (a local music legend) comes on at 10pm and rocks until 2am.
Another brand new addition to the evergrowing nightlife scene in Phuket Town, Jamming' Music Club focuses on live music, marrying a Caribbean atmosphere with a Thai vibe. At Kon Thai Pub, you'll get in - house musicians, the Kon Thai Band, play a host of Thai country and rock tunes every night. The place has a mellow atmosphere and a geat bar.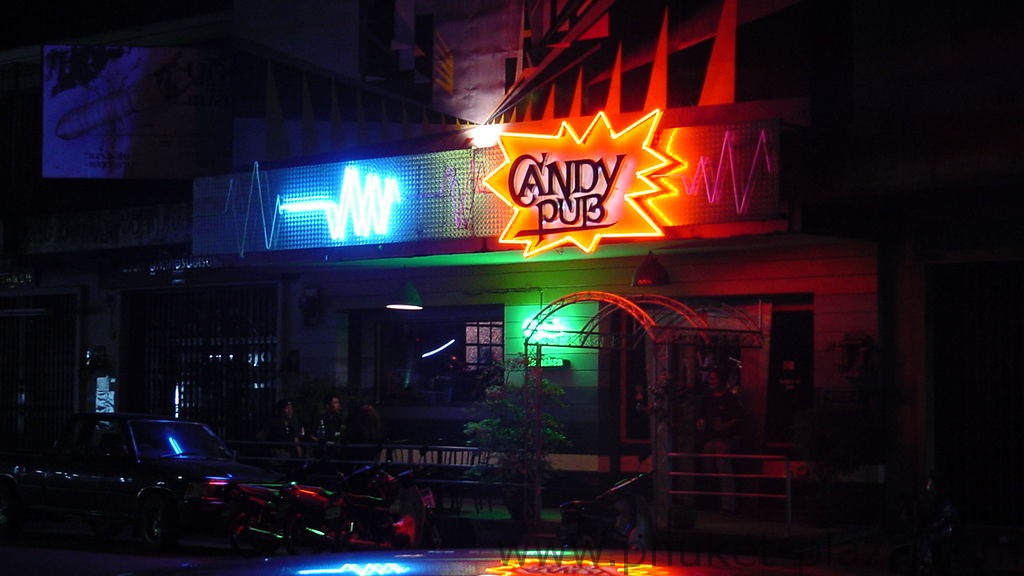 Downtown, centrally located, just next to Robinson's you'll find Candy Pub, the resident band plays modern Thai and European pop tunes nightly. A great atmosphere. Almost next door you'll find Gitano's Music Cafe, Michael's the man to see here. Impeccable taste, groovy sounds, wild cocktails and inventive cooking. Live music twice a week, just opposite to McDonald's.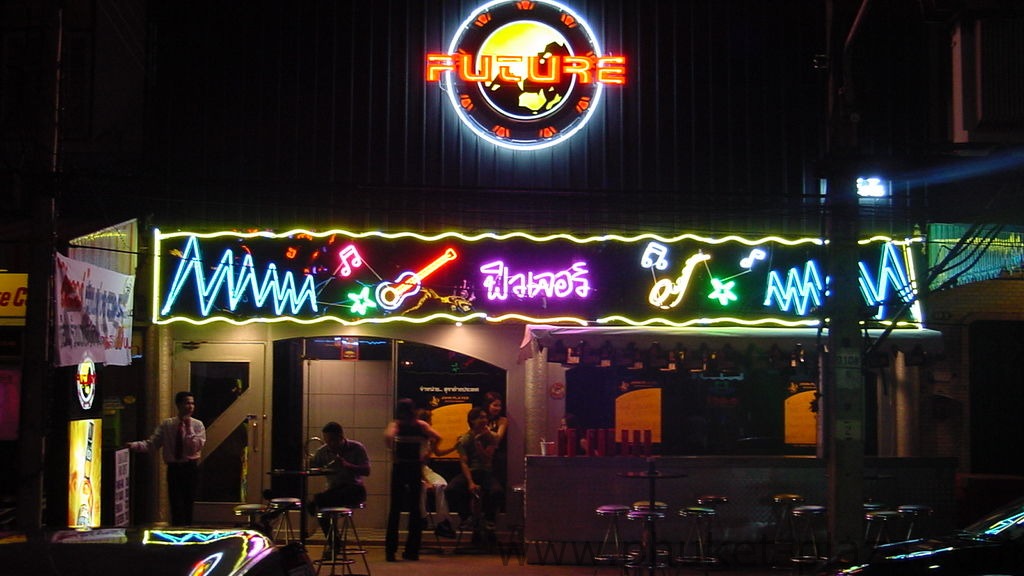 On Rasada Rd. you will find Dance Feaver, popular with the locals. Kicking Thai tunes playes into the wee hours. Futher upp the road you have Future, another nightclub popular with Phuketians. Playing to the younger generation, this is a great place to party in local style, just opposite Thavorn Hotel.
Patong Nightlife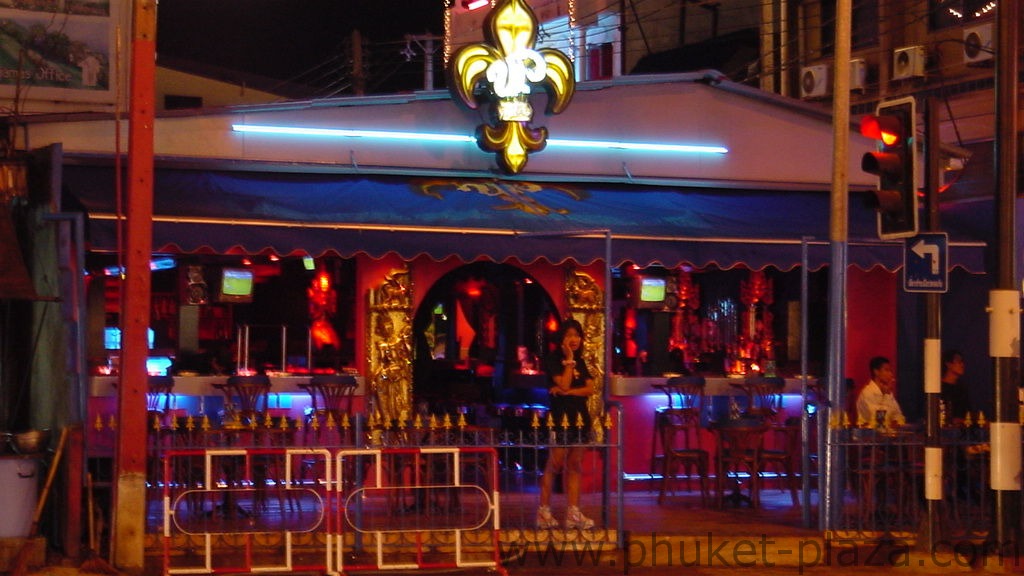 A stay in Patong wouldn't seem right without a foray out into the nightlife for which this town is justly famous. Quality dining, exciting shopping and busy bars are some Patong's nocturnal attractions. There are also some seedy elements, though: gibbons, taken out of the wild to sit, chained to bars (where's the fun in that?); child vendors and aggressive hawkers vut all in all it's a fun place to be on an evening.
On Soi Bangla, at around midnight, things get wild. Local Katoeys (transsexuals) shake their (often brand-new) things in the beer halls off the street. Not for the faint hearted. By the amount of sob stories we've heard over the years concerning gullible men and guileful women, one could fairly say that Patong - as well as Karon/Kata by night - in not the sort of place to let your guard down in - especially if you're lonely and looking for company.
One of the big disapointments lately is the early closing hour for all entertainment complexes, by 02:00 all places has to be shut down and this enforced by the local police each night. hoplefully as soon as Phuket's 'Entertainment'-zones are in place they will be opened all night as it used to be, dance until sunrise, and then chill down the beach.
If you have any problems at all in this area please call the Tourist Police. Tel. 1699 (Toll Free)
Recomended Hot-Spots :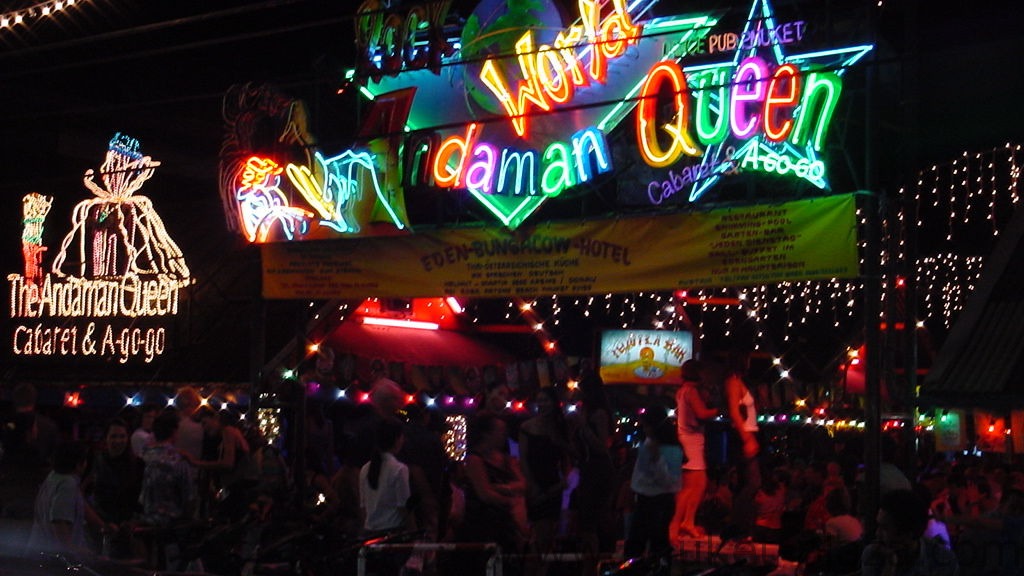 Safari - On the southern edge of Patong, the Safari gets going abouth 10 pm and doesn't let up until late. A big place, with jungle decor. Fun place to dance and meet people. They usually have great live music around 22:00, and later dance music blasting all night, one of the places one should visit, here you'll pay around 100 baht for a small beer, it's normal disco/pub price, in beer bars the standard price is around 60 baht.
Tai Pan - is on the corner of Soi Sunset, across from Soin Bangla. "Patong's top bar", Live music from 22:30 to 01:45 and disco until closing hours, one of the late night hot spots, and is usually not crowded untill after the beer bars closes, then it will be filled with all to many nice local ladies, one of the places to round of the night at.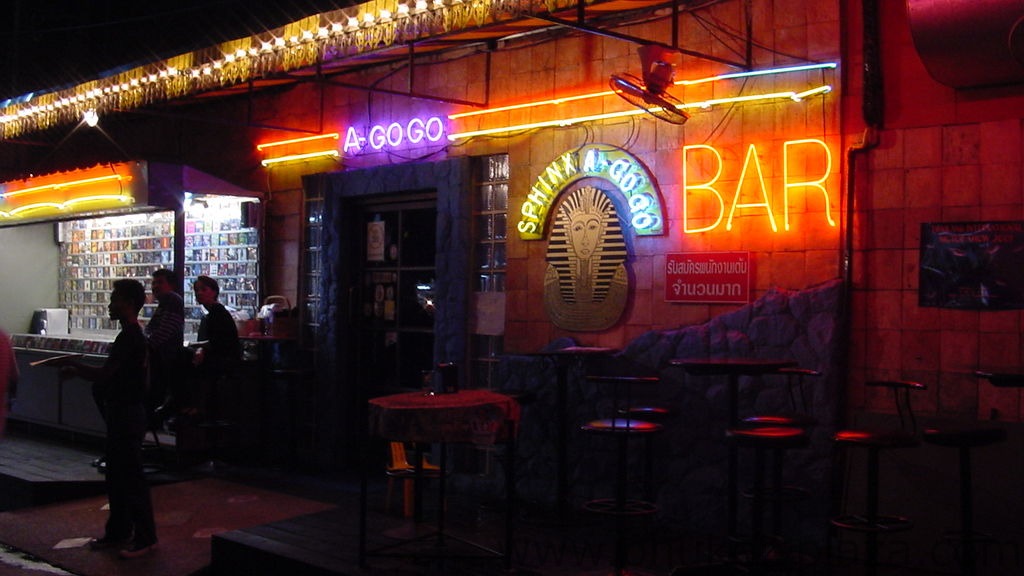 Banana Pub / Disco - downstairs is a pretty casual affair, a great place to have a cocktail before going on to bigger and better things. Open 19:00 until late. Upstairs it's the techno-funk world of the Banana Disco. Very loud and very energetic, a great place to dance, if you like to scream. Open 21:00 to 02:00, with it's big screen tv and usually great club psy-techno music it is quite a relief from the usual bar-street music. Recomeded around 24:00 - 02:00.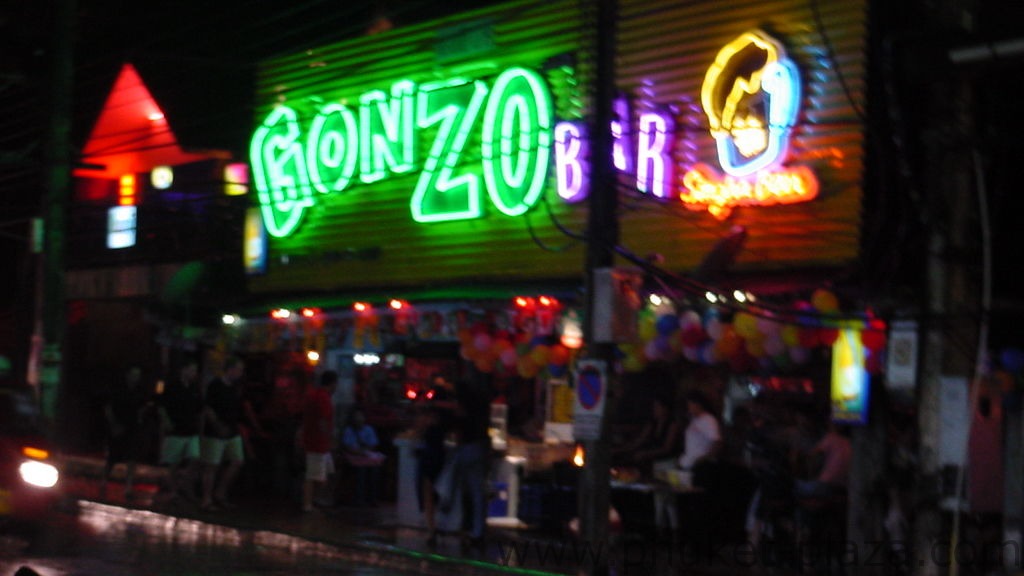 The Shark Club - the absolute top spot for the last years, a very nice and dark athmosphere to hang around in, dancing until dawn, cerenly a must for any patong visit, beer/drink prices are all 100 baht to make it simple for you, which ofcourse meens that rather than having a beer you might want to try some new exciting drink, the price is the same.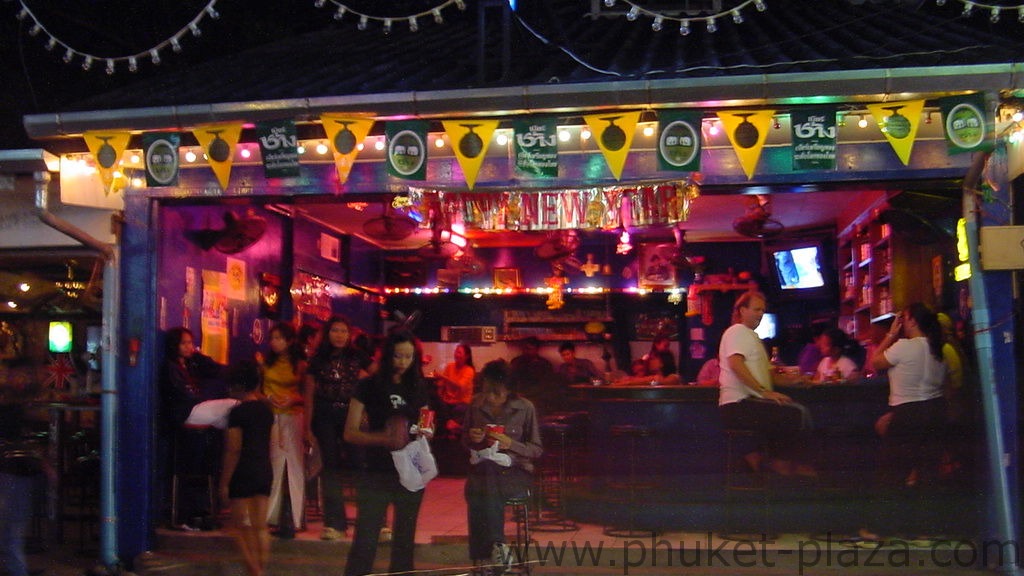 As for Beer-Bars, there are plenty and alot, the right place to start your evening, streets such as Soi Seadragon, Soi Crocodile and Soi Eric are the more famous ones. One of the even nicer places to relax and enjoy oneself is the a-go-go's but that is more for an mature audience, that enjoy to watch ladies performe sexy shows, and ain't scared of nudity. The better places is probably Pink Panther, Flash & Lipstick, also Rock Hard one of the nicer places.