Phuket - Thailand - Thai Fruit
During the reign of King Chulalongkorn (Rama V), Phuket became the administrative center of the tin-producing southern provinces.
Thai name: Kluai
Season: all year

Bananas are perhaps the most popular of all tropical fruits, and Thailand has about 20 different varieties, ranging from fragrant, sweet little "finger bananas" to large specimens with thick golden skins. The fruit is also among the most versatile and turns up at Thai meals in numerous forms besides fresh at the peak of ripeness. When young and green, they may be eaten raw as a vegetable with a spicy sauce; more developed, but still unripe,they are sliced, dried in the sun, and fried for a snack. Bananas are also grilled and soaked with syrup (kluai ping), boiled in coconut milk with salt and sugar (kluai buat chi), boiled in syrup (kluai chuam), smoked in the peel(kluai phao), and turned into golden fritters (kluai khaek).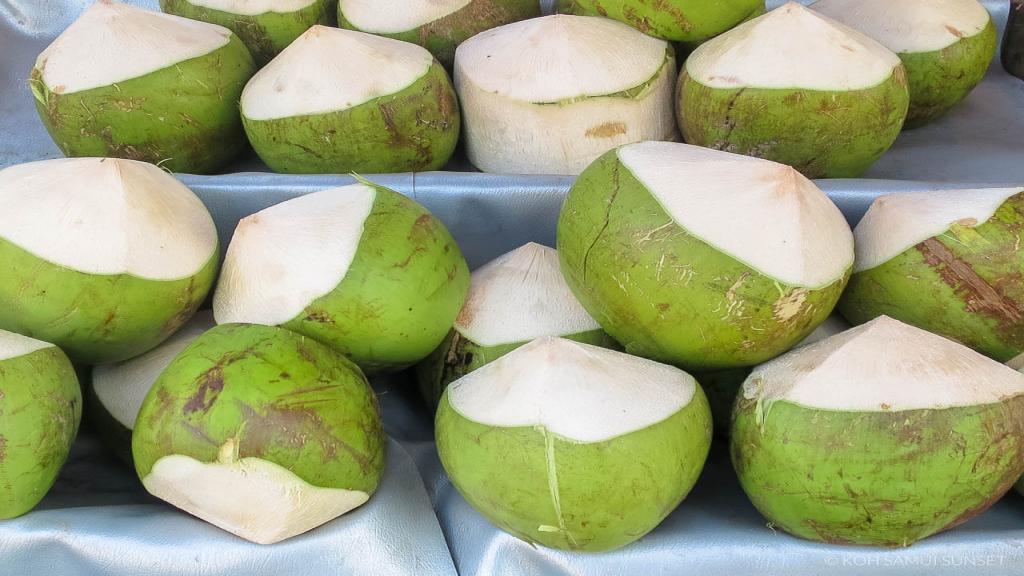 Thai name: Ma-phrao
Season: all year

Coconuts, available throughout the year, are inescapable at a Thai meal for in some form they figure in almost every dish. Coconut milk is a prominent ingredient of curries and soups,and the sliced or grated flesh turns up in many as well; it is even more ubiquitous in desserts, appearing as the basis of delicate custards, in the form of candy, as crispy strips cooked in brown syrup, and in countless other confections. For a visitor, an especially exotic treat on a hot day is a freshly opened young coconut, whose tender white flesh and sweet juice can be enjoyed whenever the mood strikes.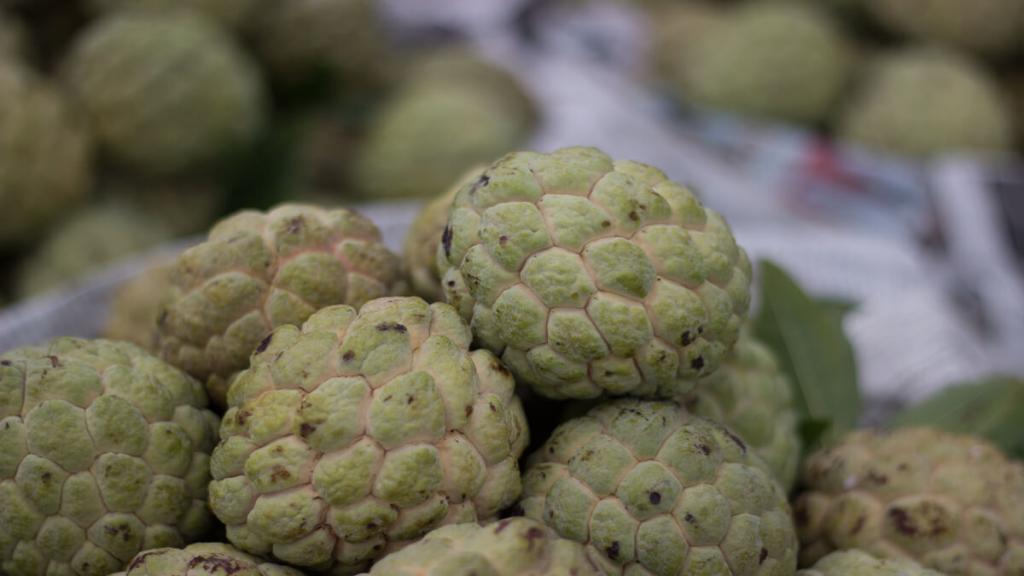 Thai name: Noi-na
Season: June to September

Also known as sugar apple, this fruit has a lumpy green skin covering masses of sweet, scented white flesh: in most varieties the fruit can easily be divided into two pieces by hand and the creamy flesh eaten with a spoon. Custard apples also form the base for a delicious ice cream, served in Thai restaurants. The main growing areas are the north-central provinces such as Phetchabun and Nakhon Ratchasima, and the peak fruiting season lasts from June to September.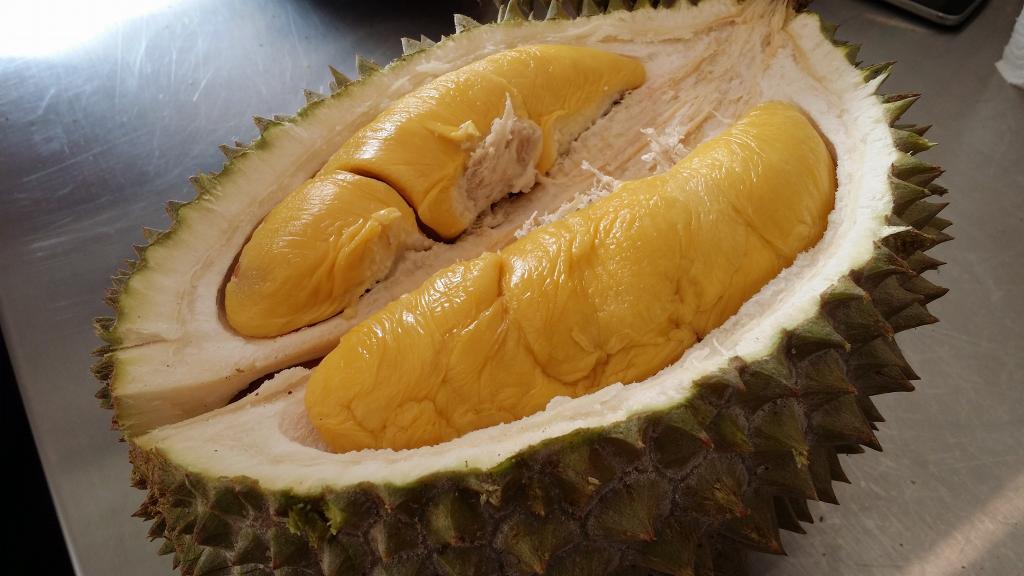 Thai name: Thurian
Season: May to August

Beginning in May and extending through August, the durian announces its presence in Thai markets with a distinctive, highly pervasive aroma. To Thais, as well as to many other Asians, the stink is a welcome odor for they regard durian as the king of fruits, a delicacy that is well worth the comparatively high price it commands. Some visitors, on the other hand, are deterred by the potent smell and never actually sample the creamy golden flesh hidden within the spiny exterior - thereby missing one of the truly great pleasures of fruit eating. "The more you eat of it the less you feel inclined to stop,"wrote Alfred Russell Wallace, after eating his first durian on Borneo in the 19th century, and most of those who follow his example are likely to agree with him. Thai durians are noted for their subtle flavor and smooth texture, often winning over gourmets who have failed to respond in other countries where the fruit grows. Three of the most popular varieties (and there are several dozen to choose from) are cha ni, kan yao, and, perhaps the most prized of all, mon thong.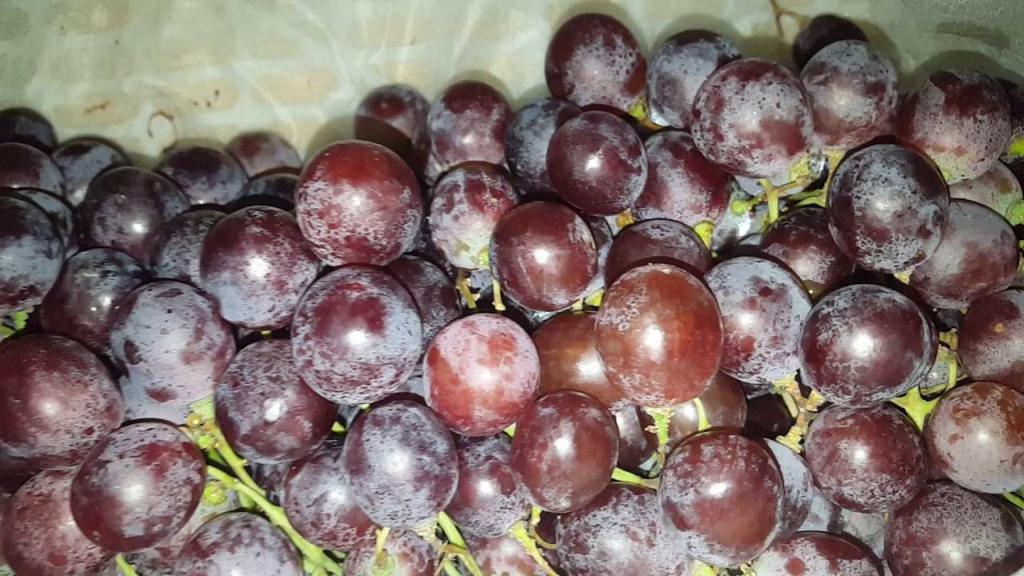 Thai name: A-ngune
Season: September to April

Real grapes in a hot country like Thailand? By all means, and delicious ones, too, both red and white, and available all year round though the peak fruiting season is September through April. Actually, most of the varieties grown were developed at Kasetsat Agricultural University to thrive under tropical conditions and are now an important source of income for many farmers in Nakhon Pathom, Ratchaburi and Samut Sakhon Provinces. Thai wine is also being made and while a bit sweet for most European palates is nonetheless steadily improving in quality.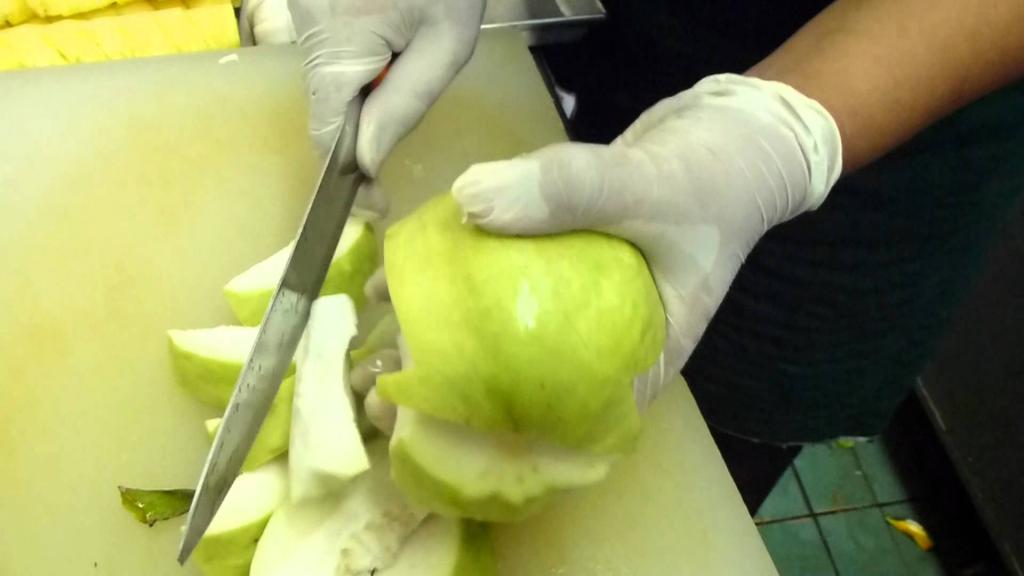 Thai name: Farang
Season: all year

No one seems to know how the Thais came to call the guava by the same name used for Westerners, but perhaps the fact that the fruit originally came from Spain had something to do with it. In any event, the guava is one of the most popular fruits for snacks, eaten either ripe or when still green dipped in a bit of salt or sugar. In addition to the usual one with white flesh, another variety is bright red when peeled.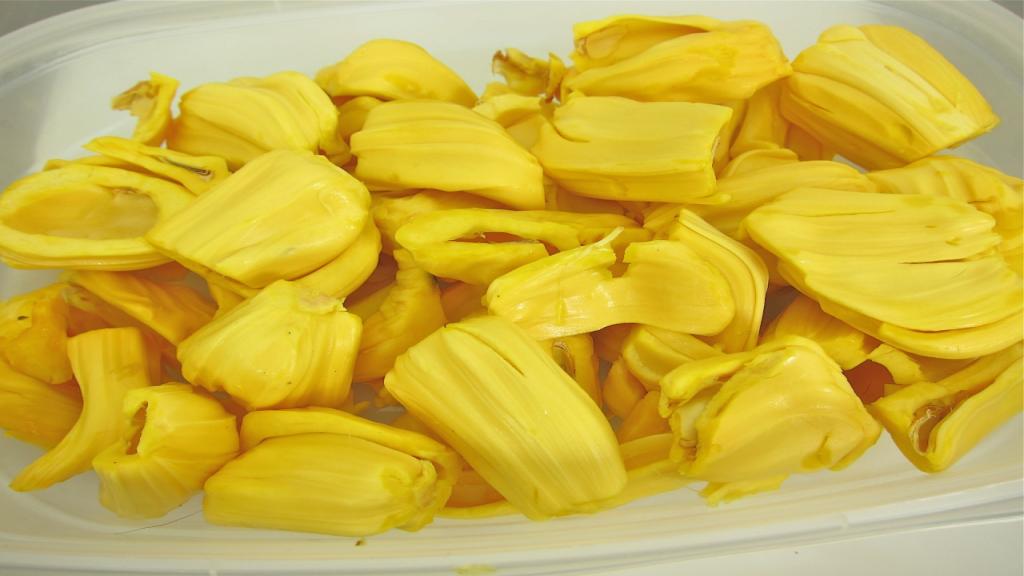 Thai name: Khanun
Season: January to May

The jackfruit is the shape of a large melon. The fruit has a grey skin, and contains a great number of pips or kernels which are about the size of a pigeon's egg. These, when roasted, taste like chestnuts. The fruit is yellow and succulent, of a sweet taste and powerful smell. Thus wrote Simon de la Loubere, a French visitor to Thailand in the 17th century, and his description of the popular jackfruit still holds true. Thais eat the yellow flesh alone, with ice cream or mixed with other fruits and coconut milk in a compote. The cooked seeds find their way into many dishes.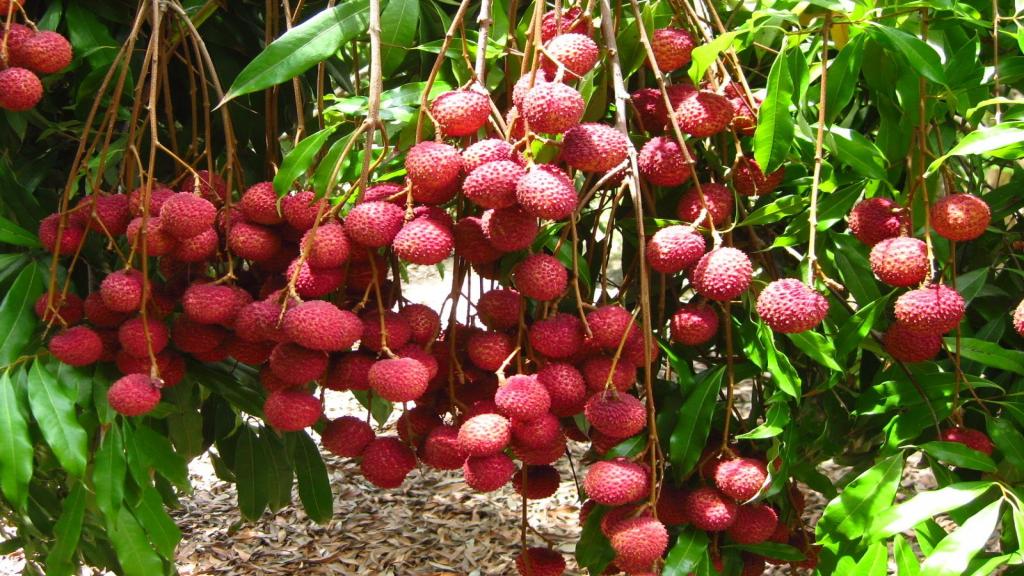 Thai name: Lin-chi
Season: April to June

There was a time when this famous delicacy was mostly imported from China and thus sold at very high prices. Today, however, many litchi orchards have been established in northern Thailand and local prices, while still above those of most other fruits, are not exorbitant. Several varieties of the fruit characterized by a sweet taste with a faint trace of tartness are currently grown, ranging from pinkish to dark red in color. Litchis come on the market fresh between April and June but are always available in cans.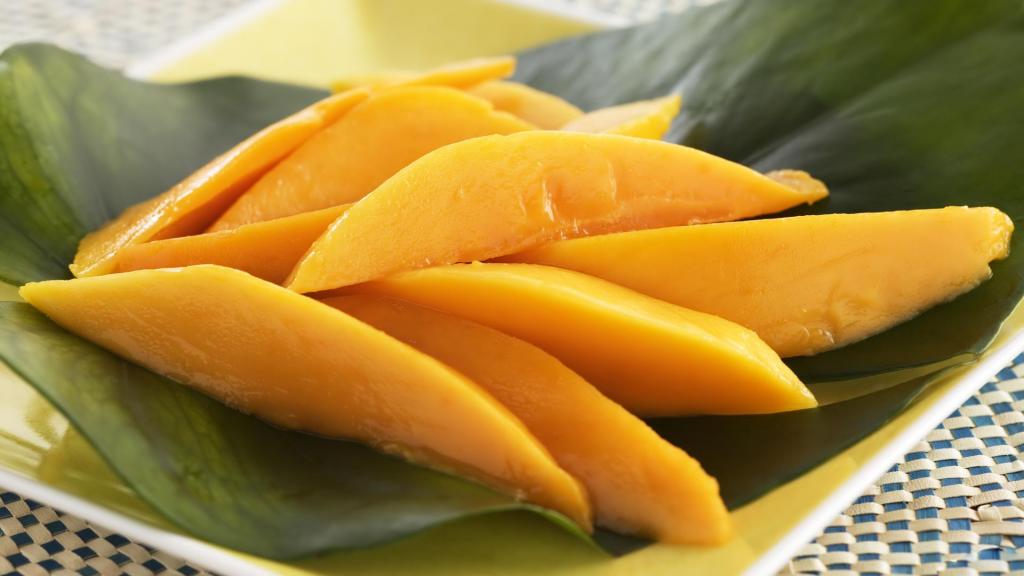 Thai name: Ma-muang
Season: March to June

Those who know mangos only from the varieties found in places like Hawaii, Mexico or the West Indies may think they have discovered a new fruit in the light-colored, delicately flavored mangos that turn up on Thai markets between March and June. More than a dozen different kinds are grown, many of them hybrids developed in Thailand. They have become so popular among mango connoisseurs in neighboring countries that nearly 3 million kilograms (6.6 million lbs) are exported annually. Thais eat mangos in a number of ways, depending on the variety. Some types are traditionally served at the peak of ripeness, accompanied by a mound of glutinous rice topped with sweetened coconut milk; the light yellow ok rong and the slightly darker nam dok mai are especially good in this way. Other kinds, such as kiao sa woei are more often eaten as a condiment or in salads when the skin is still dark green and the flesh is white. Mangos are also pickled (ma-muang dong), soaked in sugar water (ma-muang chae im) salted and dried (ma-muang khem), or turned into jams and chutneys.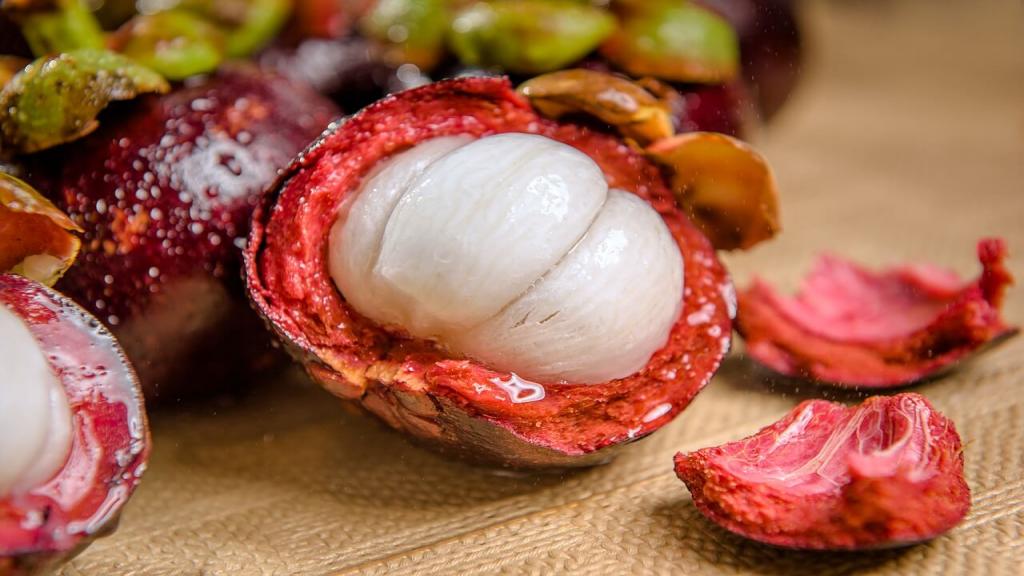 Thai name: Mang Khut
Season: April to September

Southern Thailand (see entries on Surat Thani) is the home of the mangosteen, which appears on markets in May and continues through most of the rainy season. This delicious fruit has a thick, dark-red skin, inside which are creamy white segments with a sweet, slightly tart flavor; as a general rule, the more segments a mangosteen has, the fewer seeds one will find. A knife is used to slit the skin around the middle, after which it opens easily and the flesh can be eaten with a fork as a memorable after-meal treat.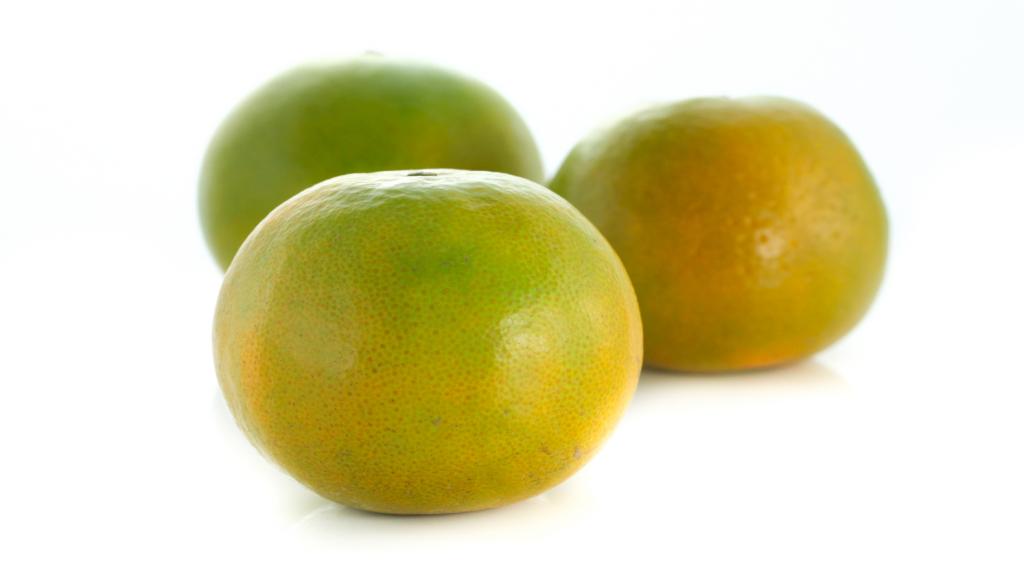 Thai name: Som
Season: all year

This is among the sweetest and the juiciest of oranges, with a yellowish-green peel and bright yellow flesh; the segments are generally eaten fresh or squeezed for their juice. The main season is September through November, but some sweet oranges can be found in the markets all year round. Tangerines (som khiao wan in Thai) are also grown extensively in Thailand and eaten in the same way as the oranges.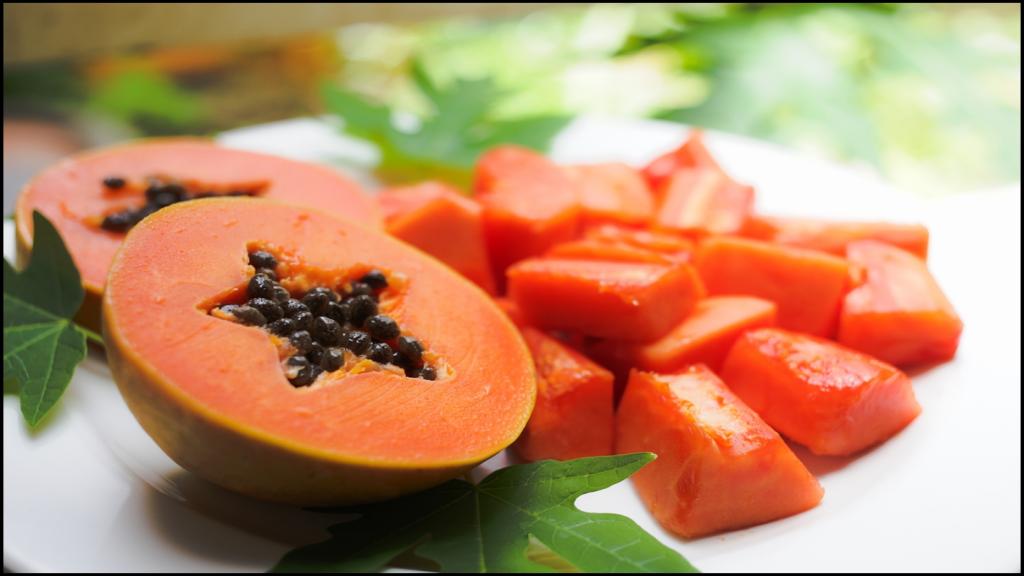 Thai name: Ma-la-ko
Season: all year

Originally a native of Mexico, the papaya has been grown in Southeast Asia since the 16th century and the long yellow or orange fruit, rich in Vitamins A and C, is a well-established component of Thai cuisine. In perhaps its most popular use, green papayas are sliced into thin strips and ground together with dried shrimp, garlic, and hot chilies to produce a fiery salad called som tam. The ripe fruit is often eaten with a few drops of freshly squeezed lime juice.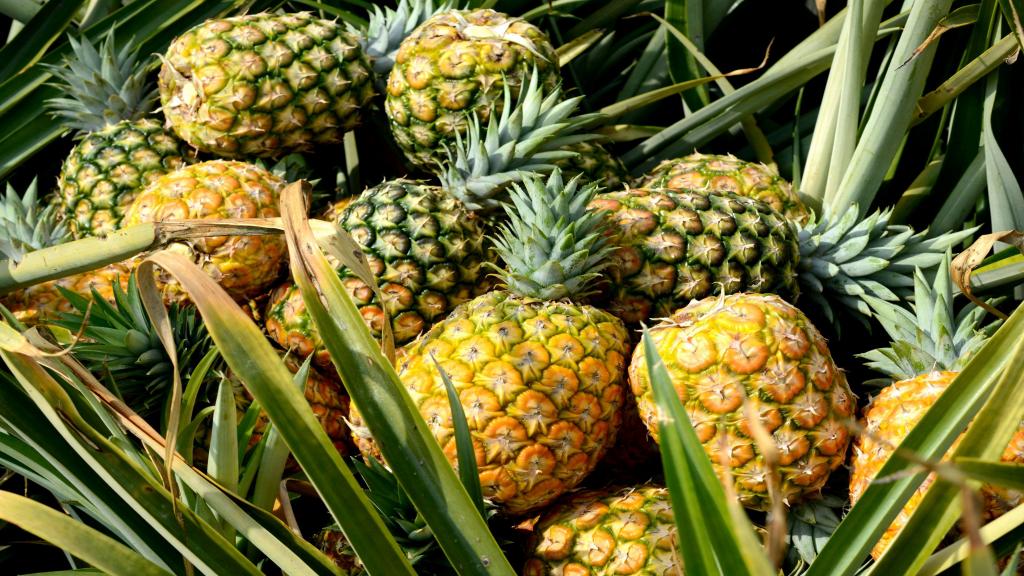 Thai name : Sapparot
Season : April to June and December to January

The pineapple is native of Central America (Christopher Colombus discovered it along with the West Indies) and it has been grown in Thailand for several centuries, especially in the sandy soil along the sea coasts. Indeed, so widespread has cultivation been in recent years that today the kingdom ranks as the world's leading exporter of canned pineapple. Besides being eaten fresh or drunk as juice, the chopped fruit is often an ingredient of cooked dishes such as a spicy soup called kaeng khua sapparot and phat sapparot, which is fried pineapple with prawns, chillies, and onions. The main fruiting seasons for Thailand are April to June and December to January but some varieties are on the market year-round.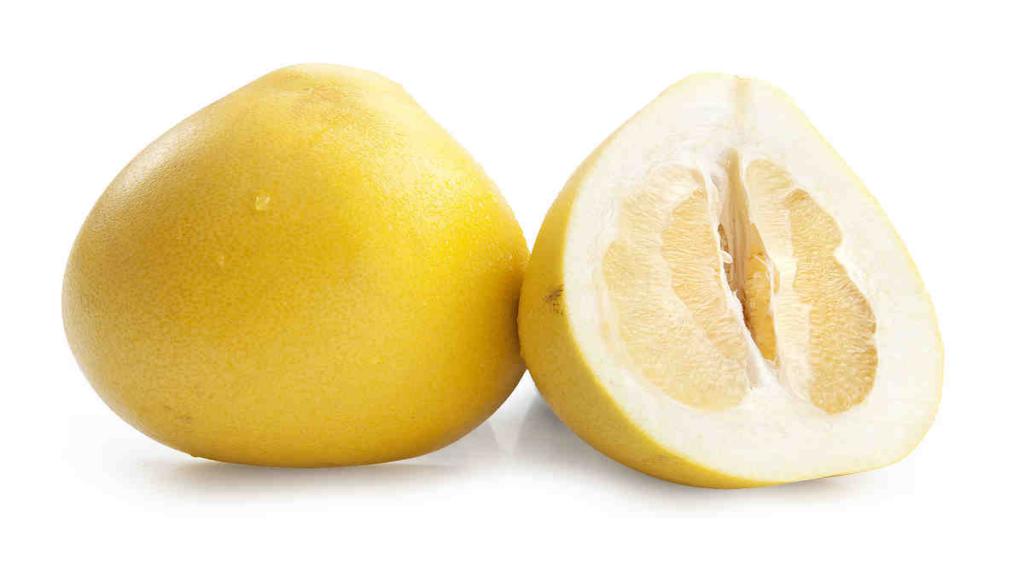 Thai name: Som-o
Season: August to November

This is the Thai version of a grapefruit, but with a sweet rather than a sour taste and considerably larger. A number of varieties are grown, with succulent flesh that may be pale yellow, orange, or red, and since the unpeeled fruit can be kept for around a month it is a popular addition to Thai meals. The peak fruiting season is from August to November, but some pomelos are available throughout the year.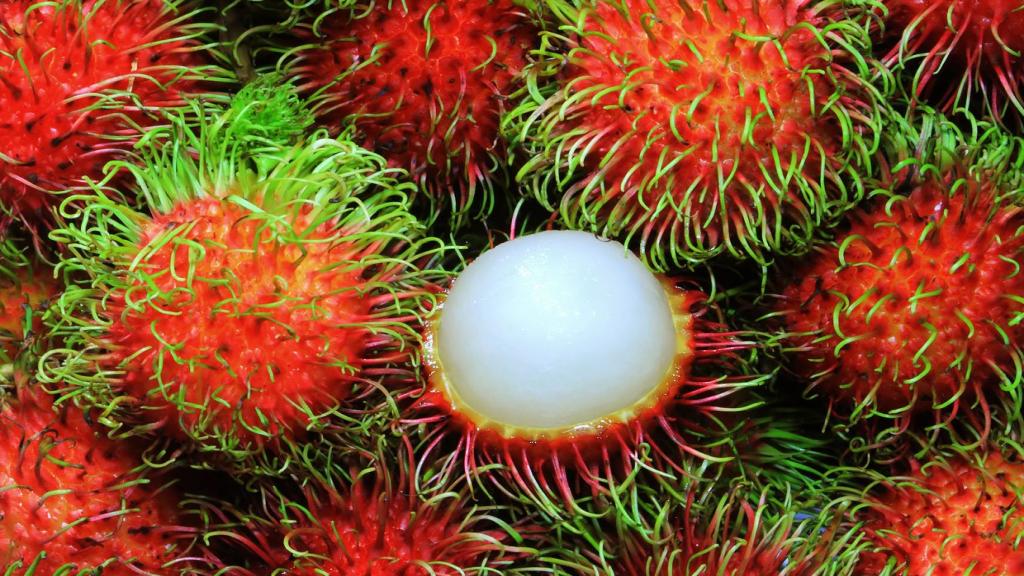 Thai name: Ngo
Season: May to September

Ruby red and covered with fine green-tipped hairs, the rambutan is one of the most attractive Thai fruits and also one of the most delicious when eaten at the peak of ripeness between May and September when it is most plentiful. Thai rambutans are noted for their sweetness and considerable quantities are exported both fresh and canned; the main growing areas are Chanthaburi and southern provinces such as SuratThani.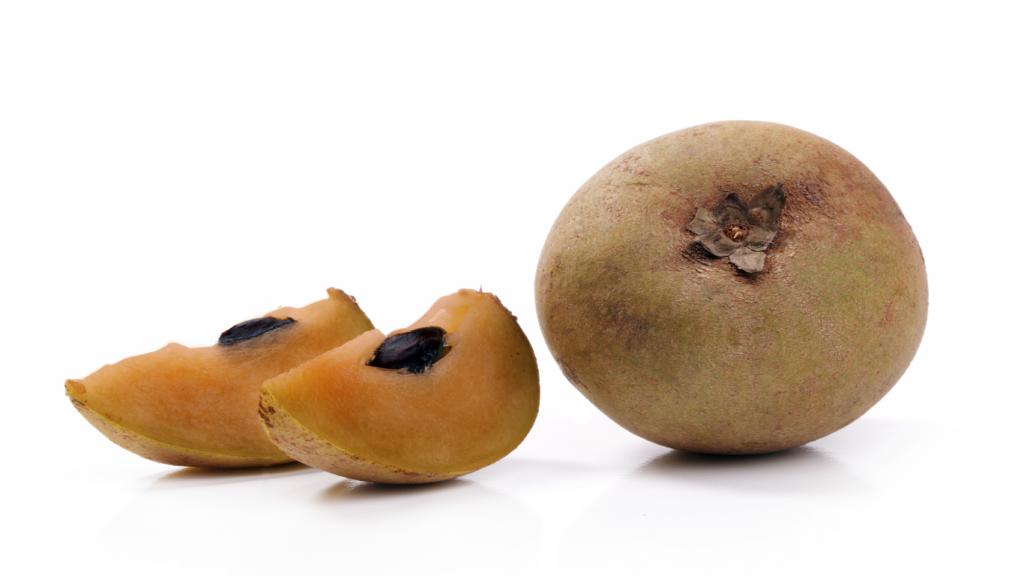 Thai name: La-mut
Season: September to December

Somewhat resembling a small brown mango in shape, the sapodilla is grown in several widely scattered provinces, among them Chonburi, Sukhothai, Nakhon Sawan and Nakhon Si Thammarat. The fruit is eaten when ripe. After the peel is removed, the firm reddish-brown flesh is sliced into pieces which are often carved into decorative shapes.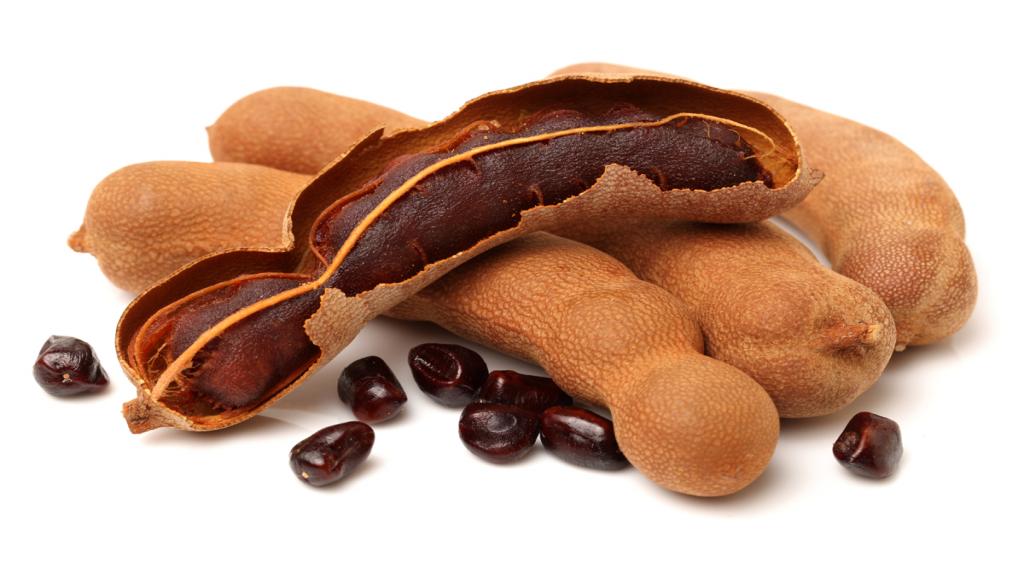 Thai name: Makham wan
Season: December to March

The fruit is, as the name suggests, a sweet variety of a fruit generally associated with an acid taste. After being peeled it is generally eaten fresh, though boiled in water it also makes a refreshing juice. Other, more sour varieties of tamarind are used in various cooked dishes for flavoring.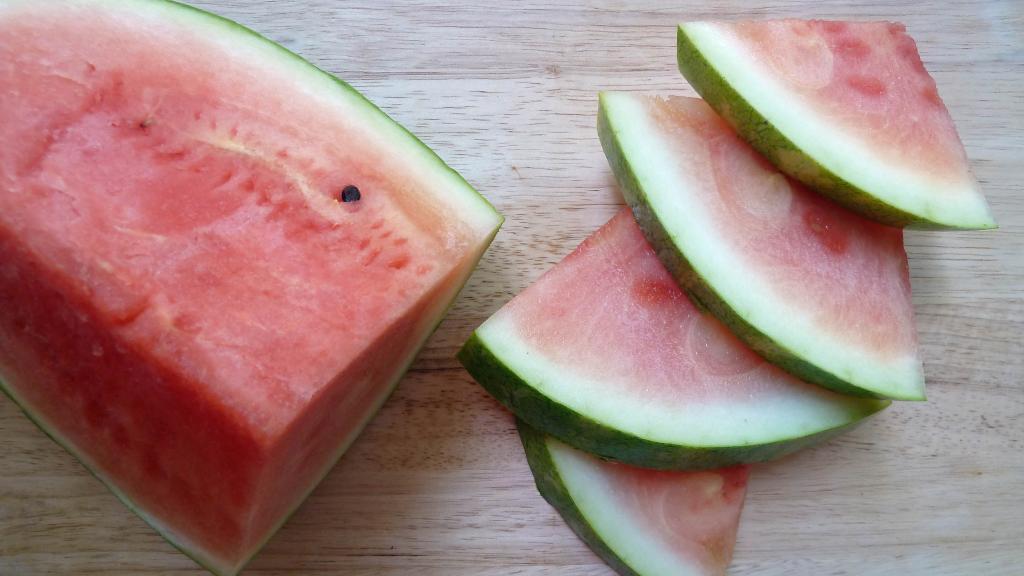 Thai name: Taeng-mo
Season: October to March

Sweet and refreshing, ruby-red chunks of watermelon are an essential part of nearly every fruit platter. In Thailand, pieces of watermelon are often dipped into salt before eating; the delicious juice is also extracted and widely sold as a beverage. Watermelons are grown in most parts of Thailand and are available throughout the year, though March is the peak of the season.