Phuket has a lot of activities to offer, anything from inexpensive do-it-yourself trips, to guided tours. Some of the things you that you don't need to reach to deep into you pockets to do when you are bored or need a break from the beaches is for example a trip to one of the waterfalls, Phuket has 3 beautiful waterfalls each located at some distant from each other, In the Kathu District you have Kathu Waterfall, on the way here you will also find the Cable Water-skiing and Phuket Go Karting, if you are coming from Patong.
Most of Phuket's nightlife and its cheap shopping is located in Patong, and the area has become increasingly developed.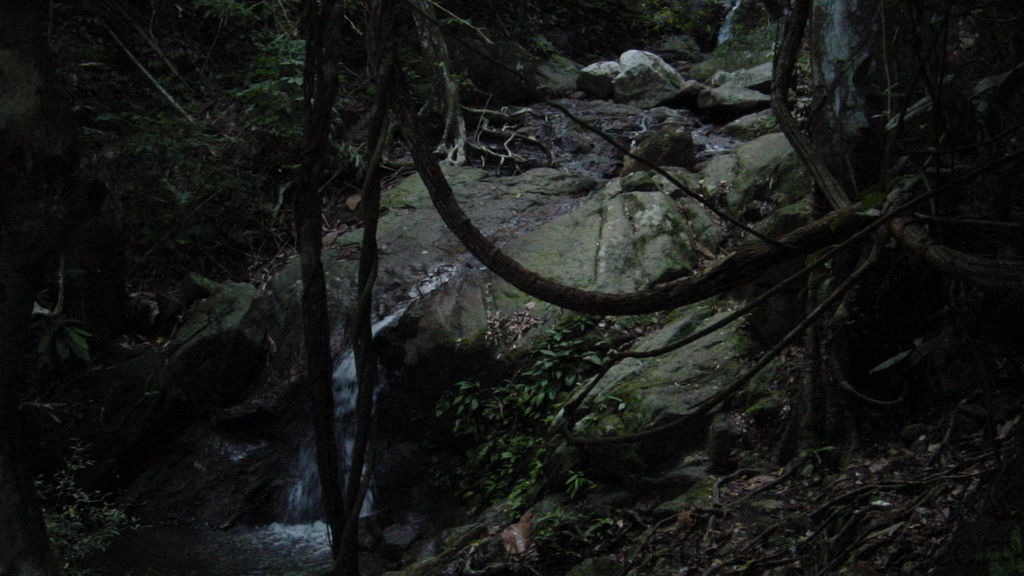 The waterfall is at is full effect in the more rainy and green season, and might give you some exercise walking upp all to the top. The Tone Sai Waterfall, just near Talang Town in the Thalang District, is also a nice jungle trekking to get all the way up. The last Bang Pae Waterfall, is maybe the most beautiful one of them all, also located in the Thalang District. On the way up to the fall you can also experience The Gibbon Rehabilitation Project.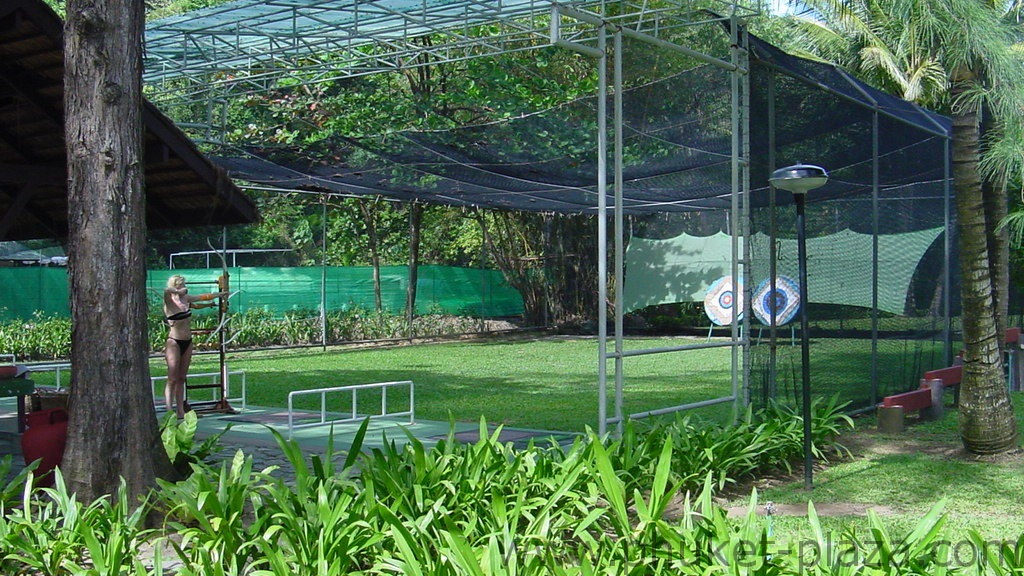 Sunday Beach Soccer, If you're looking for a good-natured game of beach football then Surin Beach is the place to go. Leave your car/bike at the beach car park then walk south until you get to Diver's Bar. Teams are usually made up at around 3pm.
Phuket Aquarium, want to see local fish without getting wet? Then head over to Phuket Aquarium at Cape Panwa on the island's southeast coast. Check out more than 100 species of fish for just 20 Bath. Open daily from 08.30 to 16.00.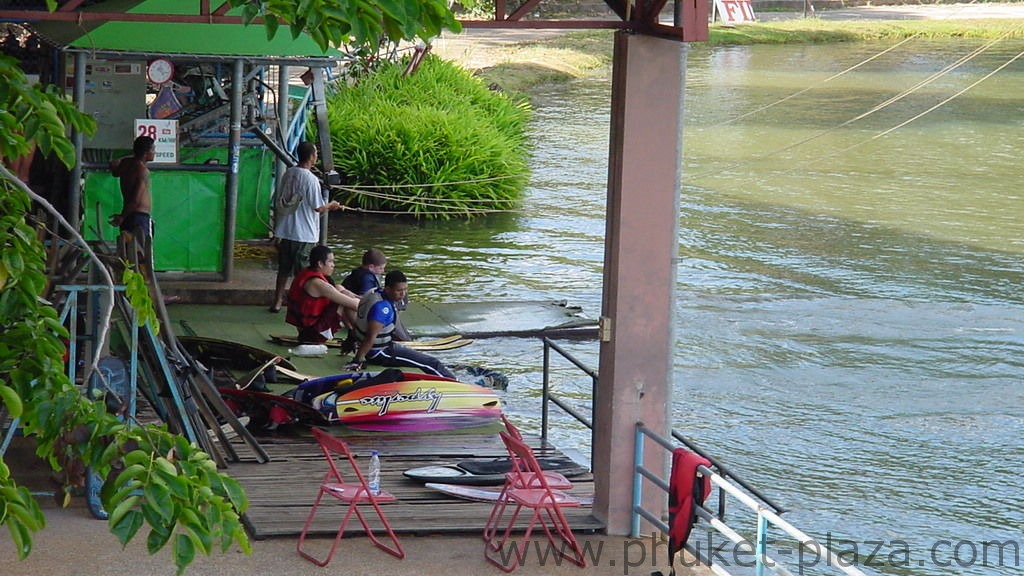 Cable Water-skiing, this is a relatively new sport and requires a bit of nerve. Not unlike water-skiing, participants are coached to perform spectacular aquatic manoeuvres at a high rate of knots. It's so much fun that many come back for more. Open 09:00 to 21:00, follow the Kathu Waterfall road. Another option is to check out Wake Up Villa, where the same sport is practiced in a more private and chic environment.
Bungy Jumping, the Jungle Bungy Jump, formally Tarzan's, in Kathu. is a real test of guts. Fight the internal struggle that every jumper experiences when standing 54 meters above the ground. Part of you screams: 'No, idiot! Don't Jump!' Another part yells back: 'I must do this!' It's well worth the rush in the end and most people manage to throw themselves off, only to claim: 'Who me? I wasn't scared at all.' Look for the crane peeking out over the palm tops in Kathu. Another new Bungy Jump Facility has just been introduced in Patong, and is located just next to the new bowling arena, at the end of Nanai road to the north, lots of advertising in this area for you to find it.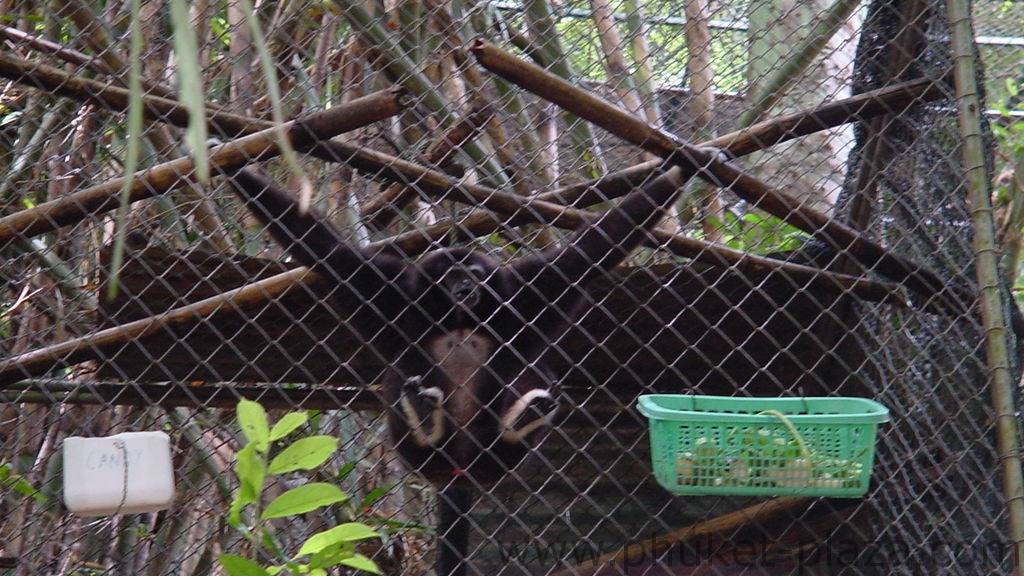 The Gibbon Rehabilitation Project, the next time you see a gibbon, chained to a bar, providing entertainment to customers, stop to consider this; Oftentimes, to take a baby gibbon out of the wild, its mother is shot out of a tree and the baby will not necessarily survive the fall. For every gibbon you see, 10 will die as a result. Cruel? You bet. In the wild, gibbons are asleep by the time beer bars open and certainly don't appreciate being dressed and drugged up just to pose for pictures. That's why the Gibbon Rehabilitation Project is so vital to the will being of this ape. On the East side of the Khao Phra Taew National Park (see map). No charge, but donations are gratefully accepted.
Catch a Movie, a new english language cinema multiples has just opened in Phuket Town. The 'Paradise' is situated above the U.F.O. clothing shop next to Robinson's Department Store. A hint: dress warmly as the cinema's air conditioning is reputed to be arctic-like.
Bicycle Tours, go mountain biking. All equipment, back up van plus insurance provided. Tropical Trails, Tel 076-263 239. Or, Phuket Mountain Bike Club, Tel 076-280 116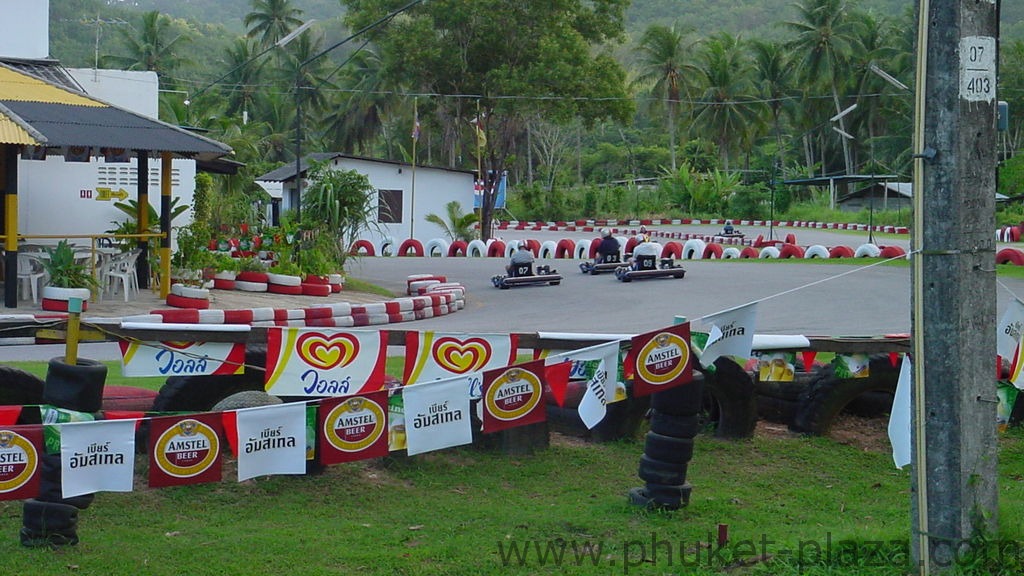 Go-Karting, go pedal-to-the-metal on the eastern side of Patong hill at Kathu. Lots of fun and not as dangerous as some people imagine.
Elephant Trekking, the wild elephant population of Phuket was wiped out last century but has been replaced in recent years by an influx of pachyderms brought here for the tourist trade. Since logging was banned in Thailand (officially, at least) about 10 years ago, hundreds of Thai elephants have been out of work and the tourist boom has been a blessing for this work-loving creature. Riding an elephant is an experience not to be missed.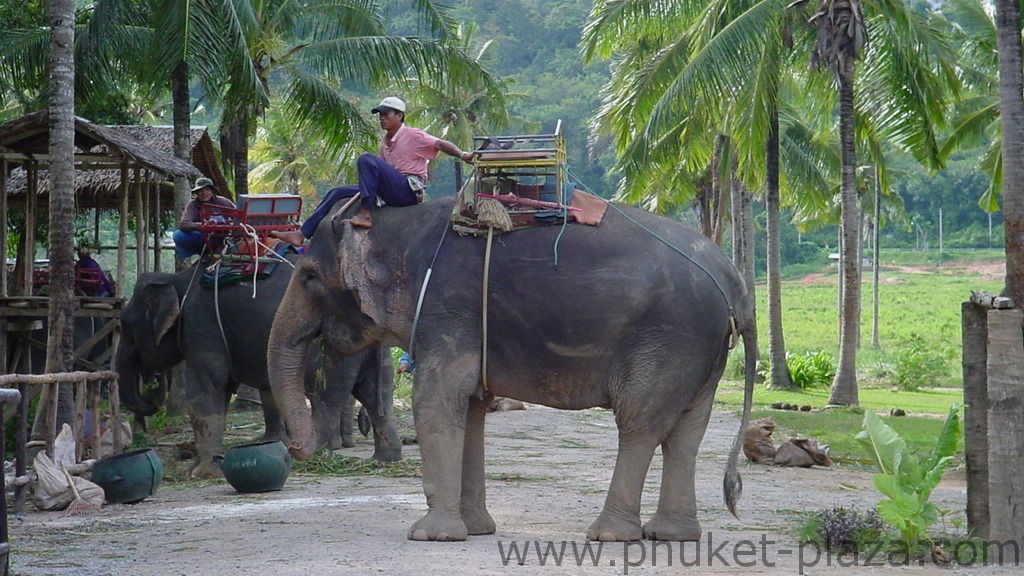 These lumbering monsters are incredibly agile for their size and can negotiate slippery slopes that even humans would falter and slip on: all this while carrying three people on their backs! Taking an elephant ride helps keep these peaceful animals out of the cities, where destitute owners are forced to take their beasts in search for food and money. There are many elephant treks to choose from in the hills above Kata, Patong, Chalong and dotted around the island. Learn about Elephant at Siam Safari. Tel: 076-280 116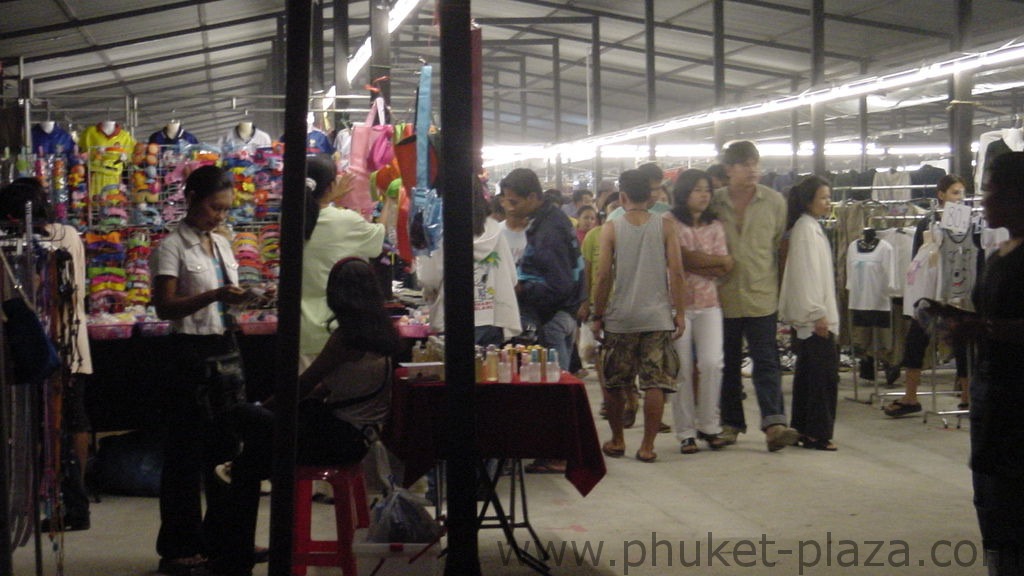 Shopping at Markets, both Phuket Town and Patong have their own street markets selling all kinds of wares. Travelling markets also set up at various locations around the island on different days of the week. It really is worthwhile pulling over to browse through one, although it's wiser to park a little ways up the road as things can be hectic the closer you are to the market. Everything, from glassware to fresh fish, to kid's clothes is on sale, although Patong, naturally, aims at beachwear and fake design aficionados. Phuket's night market is also a great place to eat at one of the many noodle stands surrounding the market area next to Robinson's.
Phuket Fantasea, hollywood glamour and eastern mystique comes to Phuket nightly at this magical extravaganza, The biggest buffet in Asia.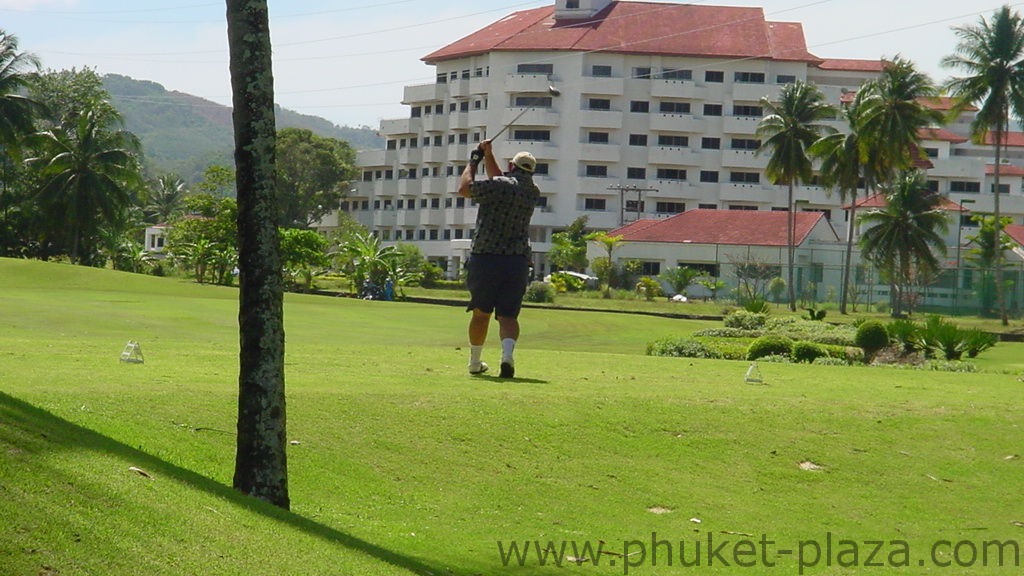 Golfing, there are four international standard courses on Phuket. Five, counting Thai Muang, just a short trip off the island. All courses have their own special features and excellent standards of (female) caddying. Blue Canyon, Banyan Tree, Phuket Country Club, & Loch Palm.