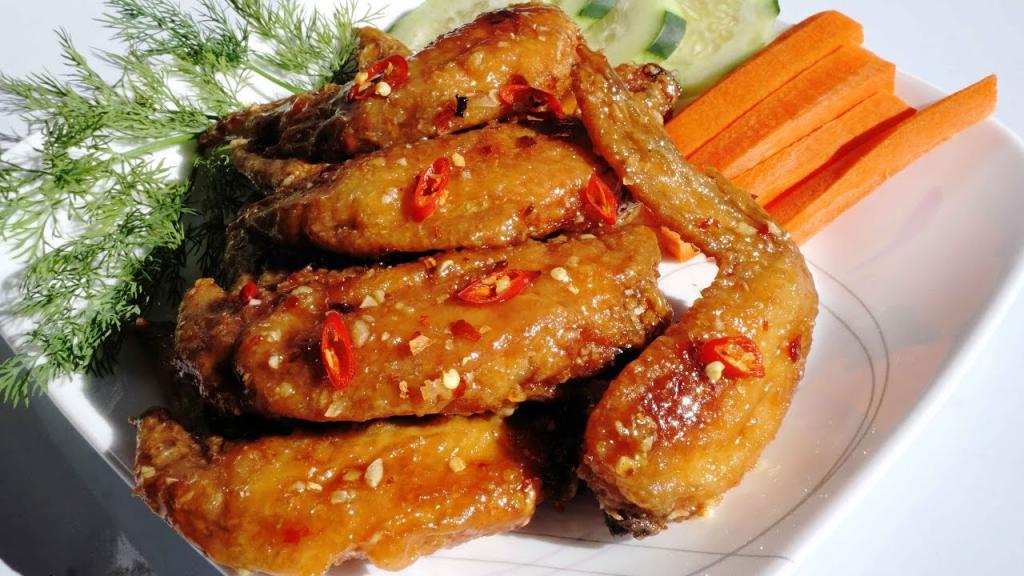 Ingredients:
10 chicken wings
2 tablespoons flour
2 tablespoons cornstarch
1/2 teaspoon salt
2 tablespoons water
1 tablespoon light cream
1 tablespoon vegetable oil
2 cups vegetable oil to deep fry
1 large onion cut into eight pieces
1 bell pepper cut into eight pieces
2 medium tomatoes cut into eight pieces
1/2 cup cut pineapple
2 tablespoons sugar
1 tablespoon vinegar
1 teaspoon salt
2 tablespoons cornstarch mixed with 1 tablespoon water
2 tablespoons water
1 tablespoon tomato paste

method: Blend the flour, cornstarch, salt, 2 tablespoons water, light cream and 1 tablespoon vegetable oil into a runny batter; beat with fork or rotary beater and set aside. In a small saucepan combine sugar, vinegar, salt and 2 tablespoons water. Boil together until syrupy; add tomato paste and stir well. Add cornstarch, moistened with water, stirring until the sauce thickens. Set aside. Cut and bone the chicken wings. Move the meat to one end of the bone. Coat the chicken wings sticks in batter and deep fry until golden brown. Drain and arrange on a serving plate. In a large frying pan, heat 2 tablespoons oil on medium heat; stir-fry the cut onion and bell pepper for 2 minutes. Add the sauce and gently turn. Add tomato and pineapple. Toss lightly, pour over the fried chicken wings, and serve.
Songthaews (passenger pick-up vehicles) are a common mode of transport on Phuket.