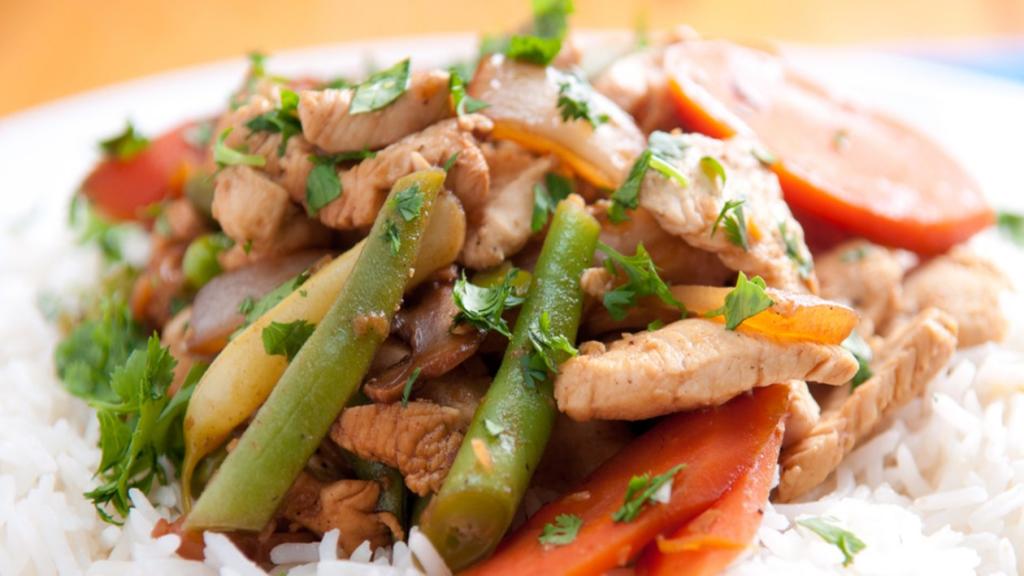 Ingredients:
1 cup sliced chicken breast
1 slice ginger root
2 cloves garlic
1 teaspoon curry powder
1 tablespoon butter
1 tablespoon light cream or evaporated milk
2 cups cut spinach
2 cups cut spring onion (2" pieces including top)
1 tablespoon minced red onion
1 tablespoon chili powder
2 tablespoons peanut butter
1 tablespoon sugar
1 teaspoon nampla (fish sauce)
1/2 cup milk or coconut milk
1 teaspoon roasted curry paste
2 tablespoons vegetable oil

method: Pound ginger root together with garlic, curry powder, cream and melted butter. Pour over chicken breasts and marinate for 1 hour. Heat the oil in a heavy saucepan over medium heat. Brown minced onion until golden brown. Lower the heat, add peanut butter, sugar, nampla, chili powder and milk. Stir fry for 1 minute. Remove from heat. In boiling water cook spinach and spring onion for 3 minutes. Drain. Place e on serving plate. Brown the chicken breast in a saucepan (without oil) turning until done. Remove from heat and place on top of cooked spinach and spring onion. Pour the peanut sauce over the chicken and top with roasted curry paste. Serve.
Average temperatures are consistent year-round. Average highs range from 29°C (84°F) to 33°C (91°F); average lows range from 23°C (73°F) to 26°C (79°F).