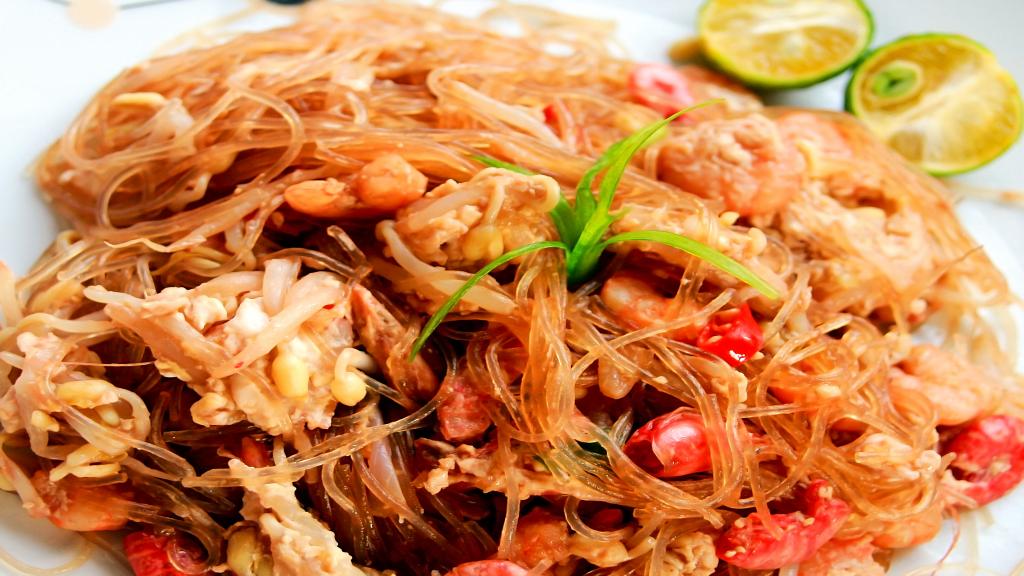 Ingredients:
1 pound rice vermicelli (sen mee)
1 cup coconut milk
2 tablespoons sugar
1 tablespoon nampla (fish sauce)
2 tablespoons pounded chilies
1/2 cup dried salted shrimp
3 tablespoons vegetable oil
2 tablespoons bean sauce some red chilies, lemon or lime, green onion, lettuce, cabbage
1 cup bean sprouts cut the following ingredients into small pieces
1/2 cup pork
1 cup shelled shrimp
1/2 bean cake (tow hou)
1 red onion
2 eggs (fried like an omelet)

method: Soak rice vermicelli in water for 5 minutes. Before draining put in 3-5 drops of red food coloring. Heat the oil in the frying pan and fry onion until light brown; add the noodles, fry for 5 minutes; add bean sprouts and nampla. Beat two eggs with a fork. Rub oil in clean frying pan with paper towel. Heat. Pour egg into center of pan and quickly roll around so it covers bottom of pan in a thin layer. Cook over low heat until egg is done (about 1 minute). Remove egg and cut in small strips. Gravy: In soup pot, heat the coconut milk until boiling. Add shrimp, pork, dried shrimp, bean cake, bean sauce and sugar. Cook until the pork and shrimp are done. Place the noodles on a large serving plate. Arrange the egg strips on top. Sprinkle with chopped coriander and cut red chili. Serve the gravy in separate deep bowl. Arrange a plate of raw bean sprout, with piece of lime or lemon, and other vegetables. Pound chili (or use prepared chili powder) and place in very small bowl.
Most of Phuket's nightlife and its cheap shopping is located in Patong, and the area has become increasingly developed.