Patong Beach Nightlife, A guide to nightlife in Patong, one of the beaches with that is well worth a visit for it's legendary nightlife, even if you might stay at another beach you should at least spend a few evenings or nights here to enjoy all that you can explore when it comes to the entertainment of the night. Patong Beach got more than it's share of Bars, Pubs and Nightclubs to cater to any traveler. And for those who just settle for a dinner with some wine, there is more than a few good restaurants located here. Have a great meal while watching the world pass by.
It is estimated that Phuket has a total area of approximately 570 square kilometres (220sqmi) (including the province's other islands).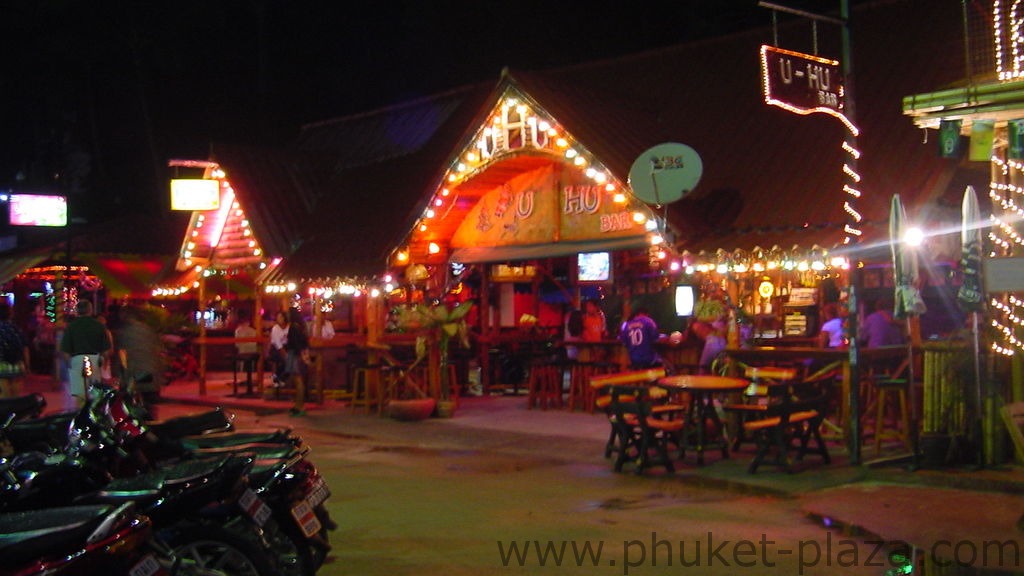 The action in Patong used to be centred around Bangla Road, but these days it's spread all over, even if the hottest locations still are to be found in the Bangla Road area. Here you find the famous Beer Bar streets like : Soi Crocodile, Soi Easy, Soi Eric, Soi Gonzo, Soi Lion, Soi Seadragon, Soi Sukhumvit, Soi Tiger, Soi Vegas.
Soi Crocodile, is known for where the famous ladyboys hang out and display there goods. There is plenty of Beer Bars here to sit down and have a beer at, and enjoy the company of fellow traveler's or local guys and girls. The street is quite busy all year around.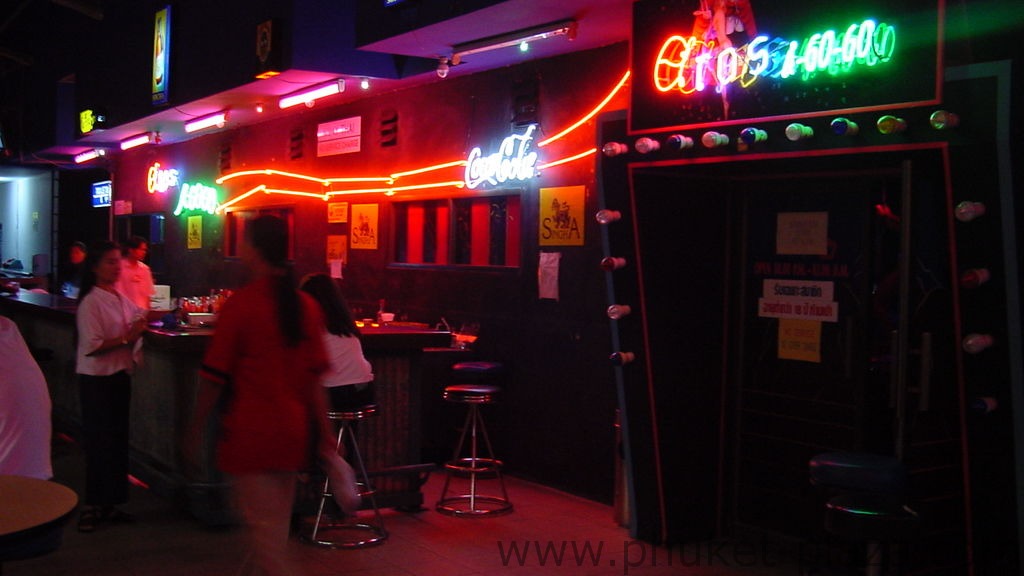 Soi Easy, is the street closest to the beach, and it's a two story complex, upstairs you will find the Aussie Bar, and when exploring further you will find other bars like, Jasmine Bar, Soho, Martini Bar, Sand White Bar, Soccer Love the Dream Team Patong Bar, BTD, The Rising Sun, One More Bar, The Star Hollywood Bar, Lucky Bar, Chang Bar, Bam Boss Bar, Tantra Bar, ForTuna Bar, Ben Bar, NightLight Bar, Fresdies Bar, Captainkirk's. There is also a Disco located here, Hollywood Disco, and an A go go bar, The Secret.
Soi Eric, what's different on this street compared to most others is that they have one DJ blasting out the same music all over the street, than the usual each bar got it's own system kind of thing. In the back of the street there is an a go go bar, well worth a visit.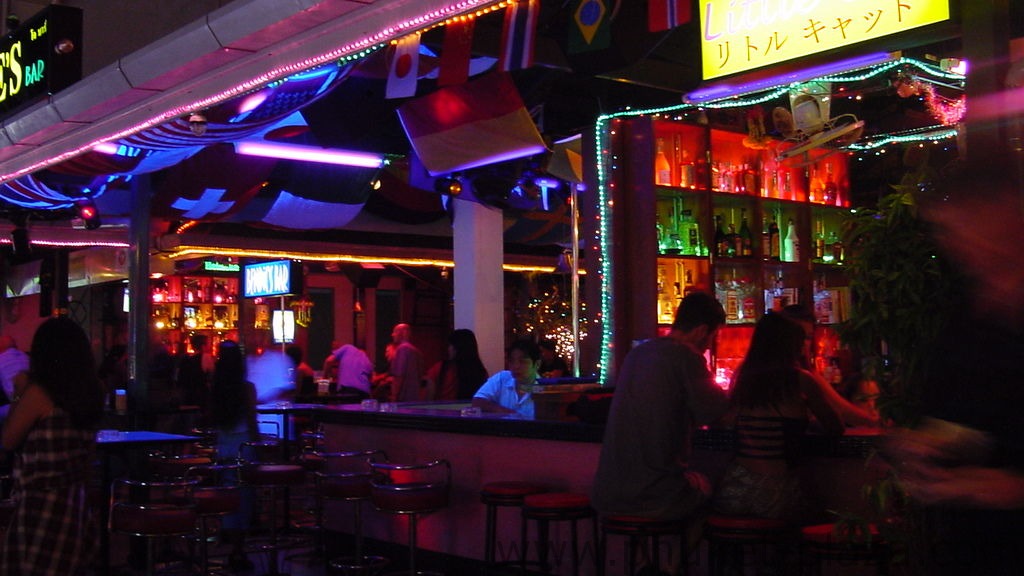 Soi Gonzo is located next to Soi Easy, might be a bit hard to locate as it sitting between Soi Easy and Soi Crocodile. You'll find some bars you will find here is Strawberry bar, Liza Bar, Martini Bar, Off Side Bar, Black Cat Bar, Sweet Bar, Luck Bar, Aussie Bar, Bad Girls Bar, Magic Bar.
Soi Lion is located between Soi Tiger and Soi Seadragon, here you find bars like Poseidon Bar, Poppy Bar, 7th Heaven, Star Bar, Jadai Bar, Zest Bar, Stockholm Bar, Crazy Bar, Lion Bar.
Soi Seadragon, is probably one of the hottest sois around in Patong, here is plenty of a go go bars located as well as loads of beer bars. It's been renovated since it's early years, and do now feature a two level of beer bars in the center, on the sides there are a go go bars one after another. Places worth a visit would be Playschool A-Go-Go, Devil's Playground, Suzy Wong's A Go Go, Exotica.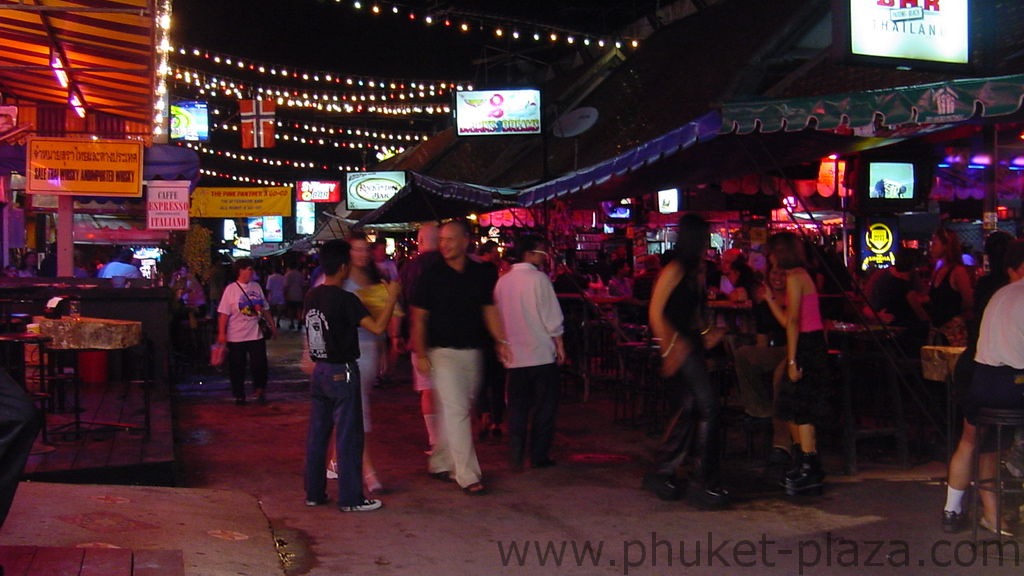 Soi Sukhumvit is located out on Rat U Thit Road, and is a two level complex, one place here you should not miss is The Night Station, and the usual beer bars.
Soi Tiger is located under the Tiger Disco, here you will find the usual bars, and a few to notice would be Sharky Bar, Hot Rock, Crazy Horse, Coctail and Dreams Bar.
Soi Vegas, here is where you will find the famous Moulin Rouge, Seduction and Roxy A Go Go.
And it goes on and on, the night in Patong never seems to end, until you suddenly wake up in your hotel room wondering how you got back home...