Karon Viewpoint, or as it is also know Kata Viewpoint, is located at the end of Kata Noi Beach, if you follow the road that goes on to Nai Harn Beach, it's difficult to miss the viewpoint when driving along the road, and it's well worth a stop here, to enjoy one of Phuket's most famous views. Featured on plenty of postcards over the years, most would think that the beaches you see is Patong Beach, Karon Beach and Kata Beach, but it is just Karon Beach, Kata Beach and Kata Noi Beach you see when you look to the north-west coastline, Patong Beach is well beyond the mountains.
After the Tsunami, By February 2005 many damaged and most undamaged resorts were back in business, and throughout 2005 life slowly returned to normal for the people of Phuket. Following strenuous recovery programs, there is no remaining tsunami damage other than at the most remote beaches.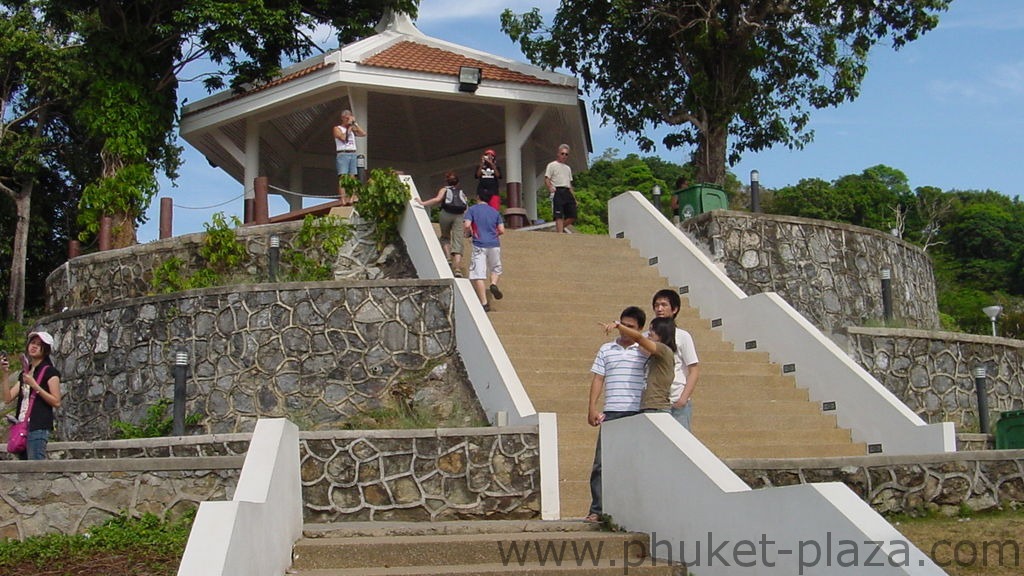 The Karon Viewpoint is well known, and there is a few shops here where you can buy something to drink, or take you picture with an eagle. Even if it might be more and more commercialized over the years, it doesn't mean the view is any worse than it used to be. We'll worth a visit if you are on the coastal road for whatever reason.
It's open daily, and the best time to visit would be on a lovely day. As said, it's located just between Kata Beach and Naiharn Beach. Very easy to find. Locally the viewpoint is called Khao Saam Haad which translates to Three Beaches Hill, and the official name Karon Viewpoint, might be a bit puzzling, when the location is just after Kata Beach, so it's also know as Kata Viewpoint.